Introduction
Some dogs bark more than others, depending upon their breeds. Dog owners use bark collars to control obnoxious obsessive barking. There are many types of bark collars, including citronella collars, electric collars, ultrasonic bark collars, etc. Citronella ones have sensors that sense dog's barks and release citronella fragrance in the air. This method has been considered more effective than electric or ultrasonic collars. However, the Society for the Prevention of Cruelty to Animals is against using electric shock dog collars. Now it is up to your rationale to use or not to use dog collars. Beware of the excessive use of such collars as they may make your dog stoic and counter-attack the behavior modification process making him stubborn.
Top Bark Collars For Dogs
1. DogRook Rechargeable Dog Bark Collar
  It comes with 2 modes to control the bark. The beeps and vibrations work alternatively to calm down the bark depending upon the type and intensity of the bark. It helps in controlling the bark in 96% of the cases. This humane bark collar comes with 7 stages of sound beeps and vibrations. No remote required is required. The collar combines vibrations and beeps to calm the dog. On the first bark, it beware the dog with a sound signal. With subsequent barks, vibrations are added to dwindle the bark. You can easily adjust the size of the collar according to your dog's size. It is available in three sizes, S, M, L; it is fit for every size of the dog, varying from neck size of 9 to 22 inches.
Apart from the basic bark collar, it has an inbuilt USB cable, 2 types of plastic prongs, and 2 color covers. This feature allows it to be specifically curated for every dog. Some of the customers have complained about the absence of an on and off switch. You will have to directly remove the collar when not required. But this doesn't pose much of a problem.
2. Bark Collar Collar with Beep Vibration
It is Customizable as you can switch to the no shock option as per convenience. You can switch on the no option mode using the M button. The most used feature is the vibration beep function. It comes with an inbuilt protection mode. Understanding that dog training shouldn't be too strict, this dog collar is not too harsh on the dog. If the sensor triggers 7 times in one minute, it automatically stops for the next 30 seconds preventing too much punishment for your pet.
It comes with an ultra-powerful chargeable battery with 15 days capacity. With IP7 level waterproofing, it can be used in any type of weather. This
bark collar
comes with in-built reflective adjustable tapes for large as well as small dogs. Also, extremely smart sensors detect only dog barks. No false triggering to other sounds or other dogs' barks. Some customers have complained about water resistant issues. The collar is not so fit for use in water.
3. Small Dog Bark Collar Rechargeable
This small dog bark collar is fit for your lovable little barkers.  Perfect for small neck sizes ranging between 6″ and 20″. Ideal for petit barking dogs like Chihuahuas. It doesn't use inhumane electric shocks in dogs. Seeks to correct obsessive bad dog barking with dog-safe vibrations. The vibration chip prevents the collar from getting triggered by other dogs' barks. It uses the advanced 2022 chip to sense the throat vibrations. There's no need to replace batteries as this small dog bark collar comes with an inbuilt rechargeable battery which takes 1 to 1.5 hours to get fully charged and works up to 14 days. Water and mud splashes resistant collar makes it fit for use in any type of weather. Fluffy dogs don't pick up any vibrations from this bark collar and thus can be ineffective.
4. Small Dog Bark Collar
LightWeight and stylish, a perfect fit for your small little scrumptious dog as it is very lightweight with size 2 in by 1.4 in. while other collars come with 5 level safe vibrations and sound functions, it consists of 7 levels of sensations. It is perfect equipment to correct a dog's obsessive barking behavior. It has fine and intricate black polyester webbing with 2 reflective strip collars. It is perfect for any dog with a neck size from 5 inches to 19 inches. This collar is easy to use and comes at an affordable price of $20.99 at Amazon.com. With an array of positive reviews from so many customers, it has an average rating of 3.5. However, many customers have complained about random vibrations in the device.
5. Dog Care Dog Bark Collar with w/LED Indicator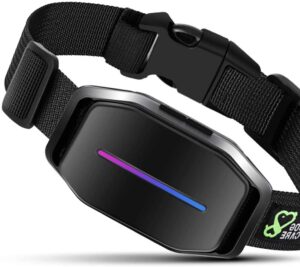 It comes with 2 humane modes to prevent barking. The vibration mode is for initial barks. You can switch over to shock mode for your stubborn dog. Depending upon the circumstances, you can switch over to the two modes in a single click. This smart dog collar contemplates your dog's bark and customizes according to the dog's bark. The 5 levels of sensitivity are not related to the shock level, and they indicate the loudness of the dog's bark. For busy dog parents, this dog collar is extremely easy to use. You don't require a professional dog trainer to control those obstinate dog barks.
The company does not intend to harm or hurt your dog. Their specially curated low voltage design fits all dogs from 8.8″ to 20.8″ sizes. However, the battery life withstands 7 days. It is comparatively less than that of other dog bark collars.
6. Dr.Trainer B1/B1Pro Bark Collar with Smartphone APP
This device comes with 2 training modes-sound and vibrations. Depending upon the situation, you can switch to any using the app installed on your phone. These high-tech methods provide better reinforcement of corrective methods in dog's behavior. Differential progressive modes allow you to customize the vibrations based on the situation preventing overstimulation and inhumanity to your dog. The portable remote in the form of an app can be used to change the fixed parameters settings according to your dog. Fast charging: comes with an inbuilt USB rechargeable battery which gets charged in 40 minutes and works up to 15 days under normal circumstances. This dog collar has 100-decibel levels and can be adjusted according to your dog's needs. IP68's waterproof level design makes it adaptable for any weather.There are no cons as such.
Buyer's Guide
How To Choose The Right Collar For Your Dog
Being a dog parent comes with humongous responsibilities! Their incessant jarring barks are piercing. Adding to the woes, we've got that apprehension of being taunted by our neighbors. Although dog training should be conducive to molding dogs' behavior using other methods, resorting to dog collars should be the last option. Here are a few tips to consider while buying the perfect dog collar for your little one so that you don't have to spend extra dollars before pouncing over the correct one.
Breed and size: Do consider the breed and size of your dog before buying the collar. Fitting issues in petit breeds like Chihuahuas is a problem. For such small breeds, it is advisable to go with Small Dog Bark Collar Rechargeable, which can fit around the neck size of 6″.
Dog's capacity: if you have a dog who gets frightened very easily, you must consider dog collars with different levels of vibration sensors so that they adjust according to the intensity of your dog's bark. Some dogs like Ridgebacks and Bull Terriers show a high level of endurance and will not stop until they show signs of wounds. Thus, at such times you must immediately remove the collar and must reconsider other methods.
Adaptability: Before buying an actual bark collar, ensure that your little one is accustomed to collars. Before putting on the vibration collar, use normal dog collars around their neck for at least 2 weeks to prevent sabotage of the new ones.
Age: Never use bark collars for puppies. By puppies, we mean dogs under the age of 6 months or 8 lbs. Never use dog collars for too long. This irritates the dog, and they won't understand their main purpose.
Conclusion
Dogs are your best friends. That scintillating look in their eyes when you reach home is priceless. Barking is a natural behavior of a dog so remember, you have to control it and not totally stop it. Thus, consider buying humane dog collars with no shock technology as electric shock can mutilate or cripple your dog for life.
FAQs
1. What are various types of dog collars?
There are innumerable types of dog collars available for your dogs. Depending upon the breed and size, you can choose among the following:
Ultrasonic collar: As the name suggests, this collar emanates ultrasonic sound waves that are only audible to dogs. These collars are generally curated for small dogs with feeble or low-intensity barks. Such collars are not fit for dogs with hearing impairment.
Electric dog collars: These are the most inhumane dog collars that are used as a last resort for uncontrollable dogs. When the dog barks, the sensor senses the throat vibrations to induce an electrical wave. The least electric current just leads to discomfort in the dog, and the most intensified one can cause wounds in their body. Such collars are not advisable by The Society for the Prevention of Cruelty to Animals.
Spray and gas collars: Such collars innate an irritating g gas to discomfort the dogs. This gas doesn't harm them.
2. Do dog collars come with a remote?
Yes, there are a myriad of options for a variety of dog collars, like the one with remote and the one with apps. You can check out  Dr.Trainer B1s Dog Bark Collar with APP Control or the NVK Shock Collars for Dogs with Remote. You can adjust the vibrations and intensity of sensations using a remote or a mobile app.
3. Are bark collars cruel to dogs?
The dog bark collars that inflict electric shock or vibrations can be considered as cruel as they can cause wounds. However, there are other types of dog collars like the spray dog collar or the Citronella collars that are more humane on dogs. The former releases gas or spray as soon as it senses the bark, while in the latter, Citronella fragrance is released when the sensors sense throat vibrations causing discomfort in dogs and ultimately controlling their behavior.
4. Do vibration collars work for barking?
If used correctly and of the correct size, then yes, they do stop barking. However, they may not be effective in the fluffy dog as the collar is not in contact with the skin of the dog. Thus it is important to order the correct size collar (There should be a gap of one finger between their skin and the collar). Collars should not be too tight or too loose.
5. Do vets recommend bark collars?
Dog collars are considered inhumane and thus are not recommended by vets. Electric dog collars should be the last option to induce good behavior in the dog. Other methods of correcting dog behavior should be considered like Dg trainer, reward and punishment, etc.
6. Do bark collars work?
According to a study conducted by Cornell University study, most dog owners believe that the Citronella dog collars are much more effective than electric ones. Excessive or prolonged use of electric dog collars can instill reluctant behavior and anger issues in your dog. It must be used in combination with other methods to calm down your dog.
7. Will another dog's bark set off the Bark Control Collar?
Generally, this doesn't happen. The dog collars sense the throat vibrations to get activated. If your dog bark collar is vibrating at other dog's barks or other random sounds, replace it. Consider the replacement policy of the company before purchasing.