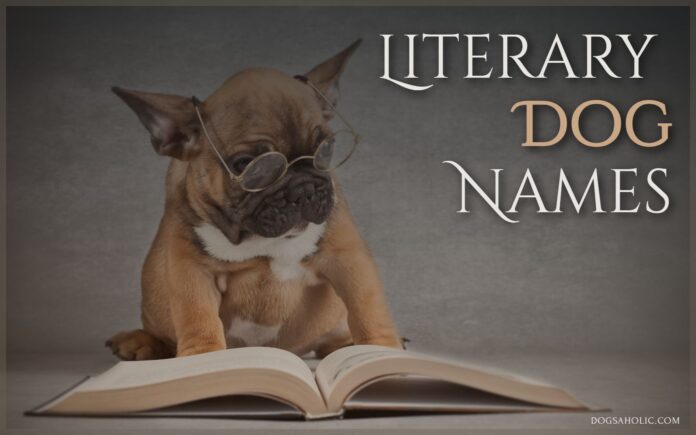 Bringing a new pup to your home is always a touching experience. Once the pup has become a part of your family, next comes the difficult task of having to pick a catchy term of endearment for them.
You can pick their name from any field of life that you are passionate about, but you'll want to make sure that the name is recognizable without being too common. Is there really such a name? Plenty—if you decide to go for literary dog names, that is.
The world of literature is enriched with countless terms and characters; pick any name, and chances are people who heard you calling out to your dog will instantly understand where you got the name from.
But because there are so many options, no two dogs in the neighborhood would end up having the same name. Literary dog names also usually sound sophisticated and unique. It could also help you meet new people—those who heard you calling your dog and realized they had the same taste in literature as you.
Are you interested in giving a literary name to your dog? Don't worry; you would not need to go through a thick bundle of books to narrow down your options to a list of literature-inspired names. Just sit back and relax; we have rounded up a passel of the catchiest and the most practical literary names (both characters and authors) for your bestie.
Literary Dog Names for Females
Straining a vast domain like literature, finding a suitable name for a girl dog is tougher than finding a name for a boy dog. After all, it wasn't until recently that equal rights for women started to become a highly supported cause.
Back then, it was very, very difficult for women to pick up the pen and become an established author. But that just goes to show how relentless and inspirational these women were. Even when all odds were against them, they did not give up and managed to produce some of the most influential works in the history of humanity.
Here we have compiled a comprehensive list of literary dog names female. Some of these names are inspired by characters in famous literature while others are derived from the authors themselves.
Adela: A character from a novel penned by Dornford
Adelina: From 'the Young Elites' by Marie Lu
Agatha: As in Agatha Christie
Aibileen: A name taken from 'The Help' by Kathryn Stockett
Alcina: A name used by an Italian poet
Ann: Inspired by a canine known as 'Little Ann' from 'Where the Red Fern Grows'
Anna: 'Anna Karenina' by Leo Tolstoy
Aurora: A name inspired by a fairytale
Beatrice: As in 'Much Ado About Nothing'
Belle: Inspired by Mirabelle ('The Shopgirl' by Steve Martin)
Bianca: From 'The Taming of the Shrew' by Shakespeare
Bronte: Inspired by Charlotte Bronte, the author of 'Jane Eyre'
Carrie: A name taken from Stephen King's novel
Celie: 'The Color Purple' by Alice Walker
Cleo/Cleopatra: A beautiful and controversial queen whose name has echoed down the corridors of history and literature countless times
Daisy: Inspired by 'The Great Gatsby' by F. Scott Fitzgerald
Dalloway: From 'Mrs. Dalloway'
Damsel: A poetic term
Desdemona: Othello's wife in Shakespeare's play
Dinah: Do you remember the pampered cat from 'Alice's Adventures in Wonderland' by Lewis Carrol? It's the name of a cat, yes, but it's not too farfetched to name your canine after her
Eleanor: From 'Eleanor and Park'
Elinor: Taken from 'Sense and Sensibility'
Emma: A character in a novel by Jane Austin
Estella: 'Great Expectations' by Charles Dickens
Evangeline: A poem by 'Henry Wadsworth Longfellow'
Francie: Name your cute pup after the lovable Francie Nolan
Galadriel: An elven queen from Tolkien's 'Lord of the Rings'
Gretel: Inspired by 'Hansel and Gretel'
Gwendolyn: A character from one of Oscar Wilde's plays
Hazel: Inspired by 'The Fault in Our Stars'
Hermione: A leading character in the 'Harry Potter Series'
Laika: The first ever animal to orbit our planet. Her journey was depicted in a children's book called 'Laika'
Laila: Inspired by 'A Thousand Splendid Suns' by Khaled Hosseini
Lassie: One of the most lovable and well-known dog characters—depicted in the novel 'Lassie Come Home' written by Eric Knight
Lisbeth: A name taken from 'The Girl with the Dragon Tattoo' by Stieg Larsson
Maya: Inspired by the great author 'Maya Angelou'
Mina: Inspired by Mina Harker of 'Dracula'
Moxie: From 'The Subtle Knife' by Philip Pullman
Nana: Wendy's dog in 'Peter Pan'
Ophelia: From 'Hamlet'
Peggy: From Enid Blyton's 'The Secret Island'
Penny: inspired by Enid Blyton's 'Cherry Tree Farm'
Perdita: A dog character from '101 Dalmatians'
Phoebe: A name taken from JD Salinger's 'The Catcher in The Rye'
Pippi: From Astrid Lindgren's 'Pippi Longstocking'
Polly: Inspired by Eleanor H. Porter's 'Pollyanna'
Posy: From Noel Streatfeild's 'Ballet Shoes'
Rosalind: Inspired by 'As You Like it'
Rowling: The author of the legendary 'Harry Potter' series. Give this name to a pup that never gives up until she reaches her goal (and she always does. With a bang)
Scarlett: A female character from 'Gone with the Wind'
Sheena: Queen of the Jungle
Tess: Thomas Hardy's 'Tess of the d'Urbervilles'
Tiggy: Inspired by Sophocles's 'Antigone'
Titania: The name of a fairy queen featured in 'A Midsummer Night's Dream' by Shakespeare
Verona: A city mentioned in 'Romeo and Juliet'
Winnie: Inspired by Natalie Babbitt's 'Tuck Everlasting'
Winona: Inspired by Henry Wadsworth Longfellow's 'The Song of Hiawatha'
Zooey: Inspired by JD Salinger's 'Franny and Zooey'
Zora: Call her Zora after the author of 'Their Eyes Were Watching God'
Literary Dog Names for Male
The world of literature is brimming with names suitable for a male dog. We have handpicked the best literary dog names male for you.
Some of these names are inspired by literary characters while others by real-life authors. Without further ado, let's take a look at our collection.
Achilles: Trojan War Hero from Homer's 'The Iliad'
Aesop: The name of a famous fable writer
Ahab: Inspired by Captain Ahab from 'Moby Dick'
Amory: From 'This Side of Paradise'
Anton: The inspiration for this name is 'No Country for Old Men' by Cormac McCarthy
Aragorn: Try this name for a brave pup, or one that's good at tracking and hunting
Argos: The faithful dog of Odysseus from Homer's 'The Odyssey'
Arya: Inspired by Arya Bark
Aslan: A name taken from 'The Lion, the Witch, and the Wardrobe' by C.S. Lewis
Atticus: From 'To Kill a Mockingbird'
Atwood: 'The Handmaid's Tale'
Augustus: From 'The Fault in Our Stars'
Balrog: From 'Lord of the Rings'
Bandit: Derived from 'Smokey and the Bandit'
Banga: From 'Master and Margarita'
Bingley: The inspiration is 'Mr. Bingley' from 'Pride and Prejudice'
Blanche: From 'A Streetcar Named Desire'
Bobby: A dog character that starred in a heart-wrenching story of a canine's faithfulness for his deceased owner; depicted in 'The Tale of Greyfriars Bobby' penned by a Scottish author in 1912
Bodger: A canine character from Sheila Burnford's novel 'The Incredible Journey'
Bozo: Inspired by 'Know-Nothing Bozo' from The Non-Wonder Dog
Bram: Inspired by 'Dracula'
Browning: How about using this name for a pup with a brown coat?
Buck: The touching story of a dog who got stolen in the 'Call of the Wild'
Bull's Eye: A feared canine character from Charles Dicken's 'Oliver Twist'
Butts: As in 'Doctor Butts'
Byron: Lord Byron
Caddie: Pick this name if you believe your pup to be as brave as Caddie Compson
Carl: This name is inspired by a picture book known as 'Good Dog, Carl'
Cash: From 'As I Lay Dying' by William Faulkner
Clifford: Try this name for a large dog breed with red hair
Cujo: A dreadful canine from Stephen King's 1981 novel 'Cujo'
Dallas: From 'The Outsiders'
Dan: A short name inspired by 'Old Dan' from 'Where the Red Fern Grows'
Dante: 'Divine Comedy'
Darcy: Every pet parent believes their doggy to be as handsome as Mr. Darcy from Pride and Prejudice'
Diogenes: A dog in Dicken's 'Dombey and Son'
Dodger: 'Oliver Twist'
Dorian: The name is derived from 'The Picture of Dorian Gray' by Oscar Wilde
Edmond: A name derived from 'The Lion, The Witch, and The Wardrobe'
Elf: A good name for a small dog
Fang: A suitable name for a heavyset dog. The name comes from the 'Harry Potter' series
Findus: A name taken from a children's book
Fluffy: Hagrid's three-headed dog
Flyte: A name inspired by 'Sebastian Flyte'
Gale: From 'The Hunger Games' by Suzanne Collins
Gamgee: Samwise Gamgee from 'Lord of the Rings'
Gaspode: Taken from 'Discworld'
Gatsby: Of course, the name is inspired by 'The Great Gatsby'
George: An Irish Playwright
Gimli: How about trying this name for a small dog?
Gladstone: This name is taken from 'Sherlock Holmes'
Godot: Inspired by the literary piece 'Waiting for the Godot'
Hank: A crime fighter pup from John Erickson's book
Holden: A name inspired by 'The Catcher in the Rye' by J.D. Salinger
Homer: A Greek writer
Howl: A name derived from 'Wizard Howl' in 'Howl's Moving Castle'
Huck: Tom Sawyer
Huckleberry: Finn
Ishmael: From Moby Dick
Jasper: Name him Jasper after the author Jasper Fforde
Jip: A lovable, loyal, yet irritating pooch from Charles Dicken's 'David Copperfield'
Kazak: Check this name out. It's taken from 'The Sirens of Titan' by Kurt Vonnegut, Jr.'
Lestat: A character from Anne Rice
Louis: A character from Anne Rice
Lumos: The name of a light spell in Harry Potter
Lysander: A catchy name inspired by a Shakespearean character
Maurice: A name inspired by 'The Amazing Maurice and his Educated Rodents' by Terry Pratchett
Micah: Inspired by 'Liar' by Justine Larbalestier
Mouse: A funny name from 'The Dresden Files' by Jim Butcher
Mutt: A cuddly companion from the literary piece, 'The Dog Who Wouldn't Be'
Nop: A faithful border collie from 'Nop's Hope'
Oliver: Oliver Twist by Charles Dickens
Oscar: Oscar Wilde
Pandora: Is your dog full of surprises?
Pilot: As in 'Jane Eyre'
Poe: Who doesn't know Edgar Allan Poe?
Polonius: A Shakespearean name
Pongo: A fictional dog from the children's book, '101 Dalmatians.' Try this name for your Dalmatian
Quixote: A name inspired by 'Don Quixote'
Rin Tin Tin: A dog from 'Rin Tin Tin: The Life and the Legend,' by Susan Orlean
Romeo: A name suitable for a romantic pup
Rowan: A character from Anne Rice's novel
Rumi: The name of a poet
Sam: An Irish playwright
Santiago: A suitable name for a heavyset dog; the inspiration behind the name is 'The Alchemist' by Paulo Coelho
Sebastian: Inspired by 'Sebastian Flyte'
Sherlock: What could be a better name for your smart dog?
Sirius: A dog from 'Harry Potter' who is actually his godfather
Snowy: A cute name for a dog with white hair; the inspiration behind the name is the famous doggy companion of Tintin in 'The Adventures of Tintin'
Tennyson: The poet
Terrain: Prince Terrain from 'Bridge to Terabithia' by Katherine Peterson
Thoreau: Henry David Thoreau
Tock: Inspired by 'The Phantom Tollbooth'
Tolkien: The author of the 'Lord of the Rings' trilogy; one of the most revered male authors of all time
Took: Try this hobbit's name for your inquisitive small pup
Toto: What could be a more suitable name for a cute, tiny black dog? Just as in 'The Wonderful Wizard of Oz'
Tybalt: Go Shakespearean with this name!
Winfield: A name from 'The Grapes of Wrath'
Wishbone: The wonder dog
Wrap Up
Picking a dog moniker from a domain as vast as literature seems quite easy. Literature provides countless naming options; these names are all pretty recognizable, but not all of them are commonly used. It's your choice whether to pick the name of a very popular character that everyone is naming their pet after or a less common but no less recognizable name that makes calling out to your dog at a crowded dog park a simple task.
Most of the literary names (especially the old ones) are heavy and impractical (e.g., Rosencrantz, Guildenstern, and many others in the same vein). Before settling for a name, make sure it is epigrammatic and allows your tongue to roll it easily.
A dog lying on the floor with three books in front of him
Remember, you're going to utter your dog's name many, many times. So make sure it is easy to say. Hopefully, this article has made the task of finding a distinctive literary name for your new furry friend a tad easier.