A dog sleeping bag might sound funny to some but dogs love them! They're very similar to the sleeping bags made for people and are created from the same materials but they're scaled down to a comfortable size for dogs.
They provide the perfect nest and are especially great for dogs who enjoy burrowing down under the covers. They also provide a place for a dog to call its own, which is highly recommended to all dog owners.
Dogs should have a bed of some kind for many reasons, not the least of which is because it keeps them from going to sleep in random spots throughout the house like in the middle of a pathway or on the furniture that they know they're not allowed on.
Why Buy a Sleeping Bag?
Sleeping bags are great for all kinds of dogs. Large or small, furry or hairless, young or old. You should buy a sleeping bag for your dog if you're in the market for a new bed, you're going on a camping trip with your dog, or you just want to try something different. For camping tips that you can use, see our article on the do's and dont's of backpacking with your canine friend.
Sleeping bags for dogs are certainly different; they're a unique type of bed with features that you can't find in anything else. In addition, a bed introduces a routine to your dog's life and helps him to feel secure, much the same as a crate can be a dog's safe haven and a beneficial training tool for owners.
It's useful to know exactly where your dog is at night so you can keep a general eye on him and make sure he's not up to no good. Many people also have their dog lay on his bed when he's getting excitable or is in the way when they have guests over.
If you're looking for a sleeping bag for that purpose you might like the Noblecamper sleeping bag as it's like a normal dog bed and a sleeping bag in one.
1. Versatility:
One of the best parts about them is that you can use them for many different things, which can't be said about most other kinds of dog beds. For instance, no need to buy a new one when you want to go camping – simply use the one you already have.
2. Convenience: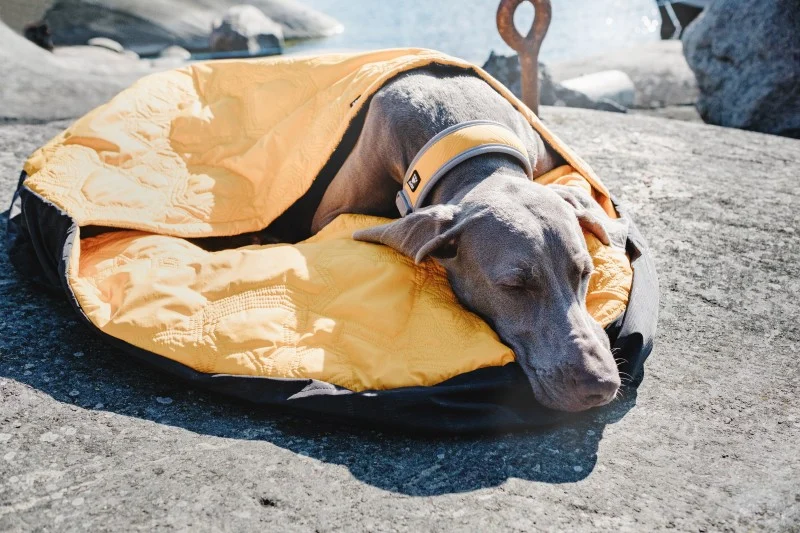 Most dog beds aren't easily transportable due to being big, bulky, and heavy. However, sleeping bags can be rolled up to be made smaller, they aren't awkward to carry and their material is designed to be lightweight so that it dries quickly and can be carried comfortably in a backpack.
A sleeping bag like the Pet sleeping bag – large ticks all the boxes and is big enough for a large-sized dog which can sometimes be difficult to find in sleeping bags.
3. One time purchase:
They're durable and made to last a long time. Like sleeping bags for humans, they last for years so they're not something you really have to re-purchase unless you need a warmer one.
You can avoid that by buying one that's warm enough from the start. Consider a cave-type sleeping bag like the L.A.Y. Pet Lifestyle sleeping bag that will allow the dog's body heat to become trapped inside.
4. Doesn't fall off: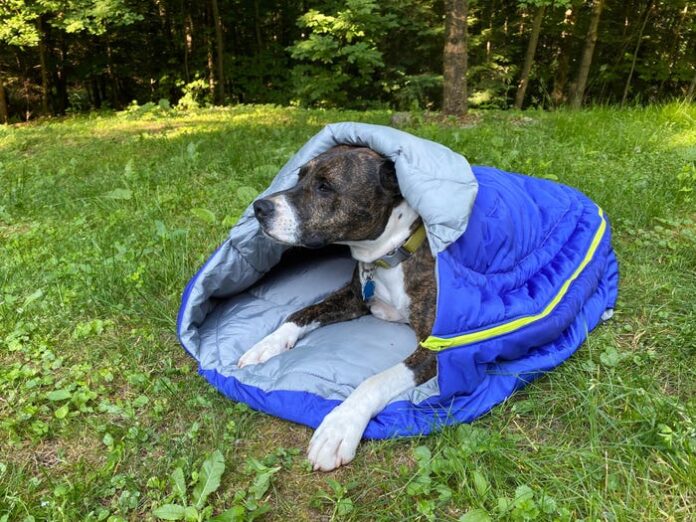 Many dogs are restless sleepers and their movement ends up knocking off the blanket that you've draped over your dog. You don't have to deal with that with a sleeping bag.
Depending on the type of sleeping bag, the dog can crawl in by himself or curl up on top of it.
5. Price tag:
They're sold at a wide range of prices. They're very inexpensive on the lower end of the spectrum but on the higher end, there are sleeping bags that are better quality. You have to weigh the pros and cons.
Spend more and have it last longer, or spend less and possibly be unsatisfied with it. However, even the ones on the higher end are still very affordable; sleeping bags are generally no more than $50 to $100.
6. Warmth: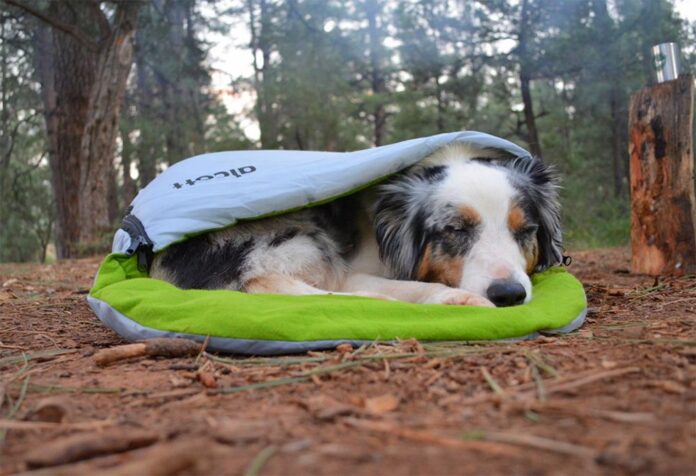 Some dogs can't produce enough body heat to keep themselves warm, especially breeds which have a low percentage of body fat and very little fur to insulate them such as greyhounds, chihuahuas, and hairless breeds.
These dogs need something to snuggle up in and sleeping bags fit the bill perfectly.
Do You Go Camping?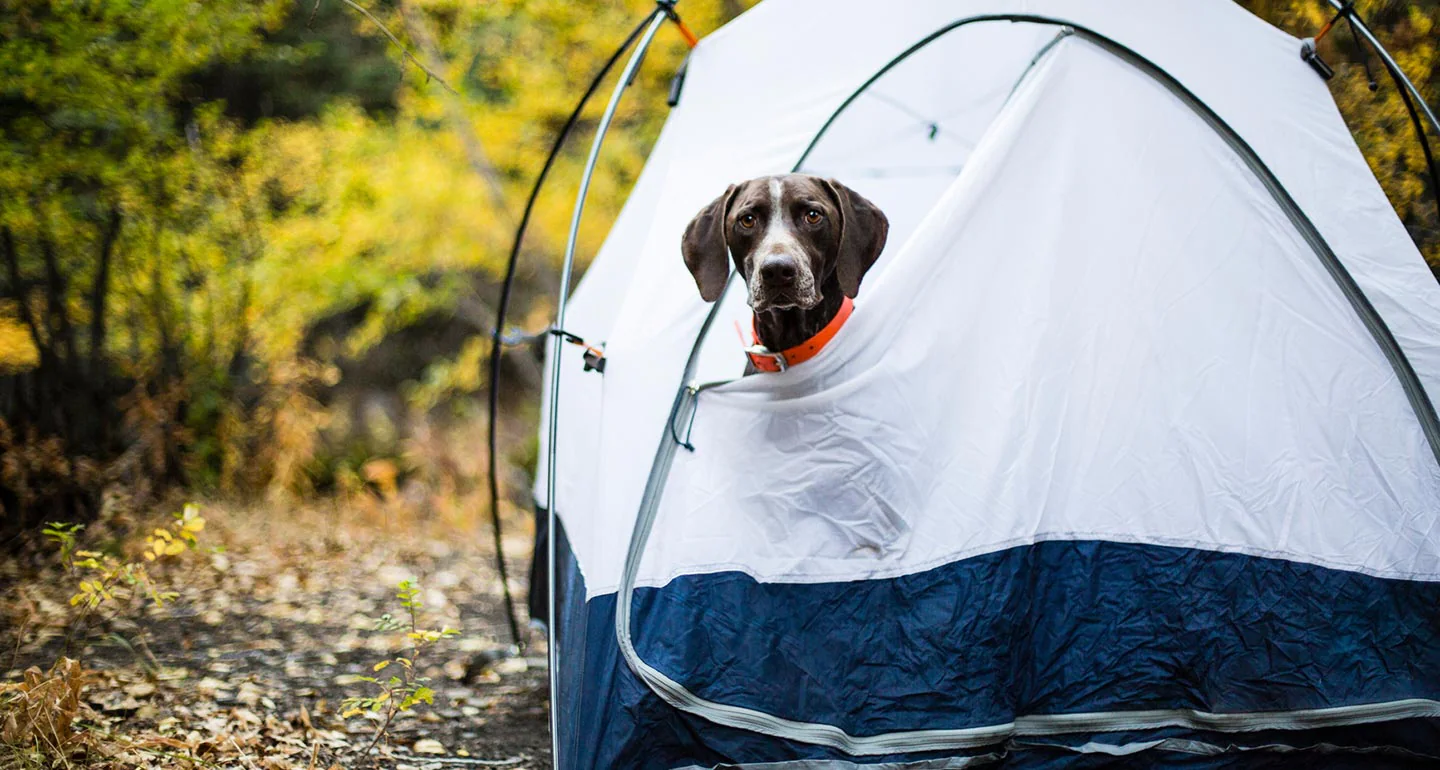 Even if you let your dog sleep in your tent with you he's going to get a bit chilly sleeping on the bare bottom of the tent so unless you want him trying to steal your sleeping bag, you're going to have to give him something to lay on. A sleeping bag is simply the most convenient bedding to use for camping trips. If it works well for people, why not use the same thing for dogs? It just makes sense.
There's a reason why people use sleeping bags themselves when going camping. They're easy to roll out, they often come with a carry case to prevent the sleeping bag from getting wet when hiking and to make it easy to carry, and they keep you much warmer than blankets do.
Some of them, like the Chuckit Fetch Games travel bed, also repel moisture. One satisfied customer said that despite the inside of the tent and the bottom of the sleeping bag being wet with condensation, the top portion of the sleeping bag stayed dry, and therefore, so did their dog.
They're not even just good for camping; sleeping bags can also be used for vacations, road trips, hunting trips and overnight stays at the vets. They can be used in virtually any space, from a car to a crate. Wherever your dog fits the sleeping bag will fit too. You can read more about this topic in our complete guide to backpacking with Fido.
How Old Is Your Dog?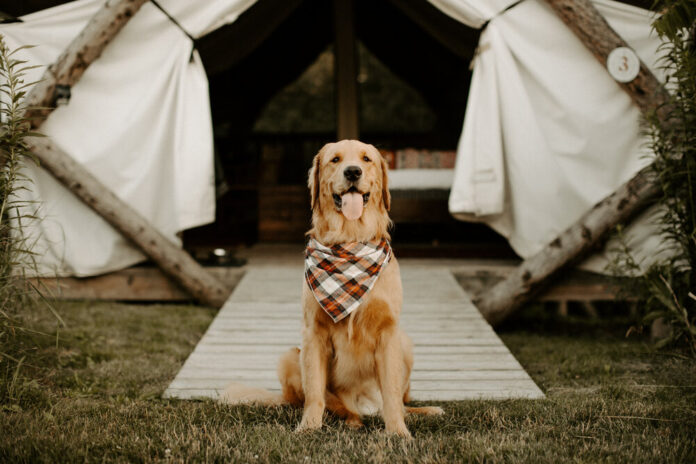 Dogs that are older can get cold easily, especially if they've lost some weight. Rather than having to provide additional heat you can simply provide a sleeping bag and your dog will be kept warm and toasty with his own body heat. Senior dogs have different needs, so read on caring for your old dog to be better equipped.
It will also give him a nice soft place to rest his aging joints, which is another advantage to a sleeping bag for dogs: they're great for all kinds of health problems such as dogs that have arthritis, have lost weight due to illness, or are incontinent. You can chose a sleeping bag that specifically meets their needs.
This could be a sleeping bag with extra padding for an arthritic dog, one that has polyfill insulation for an underweight dog or a wipeable and machine washable sleeping bag for dogs that are prone to urinating in their sleep.
If you're searching for a machine washable sleeping bag that's also fairly warm and comfortable then you can look at the Chuckit Fetch Games Travel Bed. Many people have reported how easy it is to wash and how much their dog loves it.
Does Your Dog Have Anxiety?
Beds are important to all dogs but particularly a dog with anxiety. Dogs that are anxious naturally crave a safe, quiet place to rest. The sleeping bag can be placed in a quiet corner of the house and when he's anxious he can be trained to go to his bed. A sleeping bag for dogs like the Snoozer Luxury Cozy Cave can be a great place for him to go when, for example, there's a thunderstorm.
Many dogs are terrified of thunderstorms and try to find a place to hide during them. The cave shape of this sleeping bag not only allows him to hide but also keeps him warm at the same time.
Find out how your dog can deal with another kind of worry in our guide on how your dog can cope with separation anxiety.
What Should You Look for?
It's difficult to know what to look for in a sleeping bag without first considering how your dog likes to sleep, if he gets destructive with beds, and whether he tends to get cold or hot at night. Observe his behavior and base your decisions off those observations so that you know the sleeping bag will be well suited to his particular needs.
If your dog tends to chew on everything, read our tips on how to put an end to destructive chewing before buying a sleeping bag. You also need to know what exactly you'll be using the sleeping bag for.
This is important as what you should look for largely depends on what you will be using it for. Is it for camping, simply a warm bed for indoor use, or a mixture of both? If you think you're going to be using it outdoors at all than definitely go with a water-resistant sleeping bag.
Also consider what kind of material it's made from. It needs to be warm enough to produce enough heat in cold conditions if you're going to be using it outdoors. If it's purely for indoor use than you might want to make sure that it's not going to be too warm.
Although, some owners have found that their dogs like to snuggle back further in the sleeping bag when they're cold and lay closer to the outside of the sleeping bag when they're warm so you don't necessarily have to worry about it being too warm.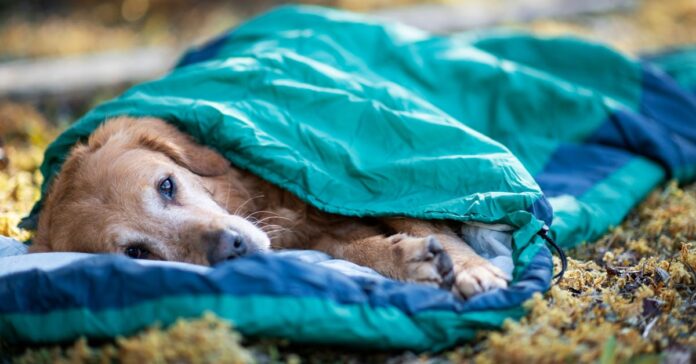 It's just something to keep in mind:
There's no one size fits all with sleeping bags. It's best to match the correct size bag to your dog so that it's just snug enough. Sleeping bags are always labeled as large, medium or small according to which size dog they can accommodate.
Look at the list of materials that it's made from. You want to make sure it will feel comfortable to your dog and won't feel too stiff or coarse. The outside layer is generally nylon due to its waterproof qualities, while the inside may be polyfill, cotton or other types of fluffy materials.
Pay particular attention to the base of the sleeping bag. Many people report that the base part of some sleeping bags are too flimsy, thin, overstuffed and otherwise inadequate. According to many reviewers, this is the case with the Trademark Global Plush cave, unfortunately.
A lot of people overestimate how big the cover is. If your dog enjoys burrowing underneath blankets you may want to make sure that the cover will be big enough for him to burrow under completely. That's the one main criticism with the Sofantex Plush cave sleeping bag.
It gets a lot of praise on Amazon and most dogs seem to love it, but some people feel that the cover looks larger in the picture than it actually is in real life and so they were disappointed when it turned out that their dog couldn't fit all the way under the covers as they had hoped.
To give you an idea of several real products and how well they are rated you can view the models below.
These are just a small selection of some of the best sleeping bags on the market.
Pet sleeping bag from Mac Sports: This sleeping bag is very flexible; not only is it perfect for camping but it's also great for using at home for any sized dog. It's big enough for large dogs but many people use it for their small and medium-sized dogs as well and they haven't run into any problems doing so. Also, as several reviews point out, it's both cheaper and of better quality than most other sleeping bags.
Alcott Explorer sleeping bag: All around an excellent sleeping bag and very convenient to use. It's easy to take care of as it can be rolled up, unzipped, washed and put into its travel bag easily. Convenience ends up being a big factor when it comes time to wash it or when you're hiking and have to unroll it and roll it back up each day. And as an added bonus, the customer service is said by one customer to be outstanding.
Chuckit Fetch Games travel bed: The Chuckit is extremely soft and comfortable and a lot of reviews focus on both the fact that their dogs love it and on the fact that it's made of the strongest fabrics. It holds up to a lot of washing and traveling.
Sofantex Plush cave: This is a great product, especially for the fairly low price. It receives numerous 5-star reviews though, so it's not one of those cheap sleeping bags that's too small or misshapen for almost any dog to use. One of its best features is that you can unzip it and remove the fabric from the inside so that you can wash it. You can also add more fabric that way if you were so inclined.
Noblecamper 2-in-1 dog bed and sleeping bag: One of the more expensive sleeping bags, but it's worth it. It's ideal for extremely cold weather and it's available in different sizes, so it would probably be your first choice if you were camping at a high elevation or similar. Due to it being specially made for camping, it has all the associated perks such as coming with a carrying case, being lightweight, and having the ability to attach it to a dog's backpack.
L.A.Y. Pet Lifestyle: This is one of the few sleeping bags that dogs can really properly burrow down into. The large majority of sleeping bags marketed towards small to medium dogs that are barely big enough for a chihuahua are rampant but this sleeping bag offers a refreshing change from that.
What Are the Different Types?
There are a lot of makes and models therefore research is necessary to ensure that you're purchasing the best sleeping bag for your dog. Some dogs have different tastes so you have to be selective when shopping for a sleeping bag for dogs.
For example, maybe he doesn't like the 'cave' type sleeping bags but would appreciate a more traditional kind. Think about how your dog likes to sleep and that should help you make your decision.
Does he like to get under the covers? Perhaps a cave sleeping bag would be ideal then. Or maybe he prefers to stretch out and he gets hot quite easily, do you think a traditional sleeping bag would be better.
Traditional: These look like the typical sleeping bag that you would use yourself for a camping trip but they're smaller and made with dogs in mind. For example, they might be made to withstand a bit of abuse from dogs that like to scratch at their bed.
Cave: Cave sleeping bags are the ultimate bed for a dog that likes to snuggle. They're very cozy looking and insulate well.
Dog bed: Dog bed sleeping bags have what looks similar to a dog bed as the base and the sleeping bag part comes over the top of the bed, making a cave-like structure. However, these are different from the cave types of bags because they're all-in-one, while the dog bed types are two separate pieces. Some dogs don't like to crawl in them on their own so this kind would be better suited for such dogs.
Overall, choosing a sleeping bag for your dog is fairly straightforward even though it does require a small amount of research to properly choose the right one for your individual dog. It's always a good idea to know a little bit about what you're buying for your dog so that you can first ensure that it's worth the money, and most importantly, that it's a safe, reputable product.