As a Pitbull dog parent, it is very important that you are not negligent to the needs of your dog as they are heavy breeds and they require rapt attention. Leashes alone are sometimes or most times not enough to control them because they are very energetic and powerful and if care is not taken they may be off the leash, which could be hazardous.

Harnesses are specially designed to help you effectively control the movement of your dog and keep their activities in check. They are designed with special features which will make your dog obedient to your every instruction and make your walk less stressful.

Several dog harnesses are available in the market, but not all live up to expectations, most especially when it comes to usage for heavy breeds. This article has been written through thorough research and in lieu of this we have come up with the top harnesses available and suitable for your Pitbull

Also read: Best Dog Harness for Pullers
What you need to know about no pull dog harness for Pitbulls
Dog harnesses are safety dog equipment that is sometimes made of nylon webbings or polyester and they are designed for dog parent to aid maximum control and safety of their canine companion.

Dog harnesses are usually designed with D-rings at the front and the back with which the leash can be attached for better control of your dog when out on a walk or during adventurous times with your dog.

They also consist of straps of webbings that loops around your dog, and it is fastened using the side release buckles, and they are also designed to have straps on the chest and in front of their forelimbs.

Also read: Best Dog Harness for Labradors
Factors to consider when choosing the best harness for your pitbull
Pitbull dogs are a heavy and energetic breed of dog, and according to research, they are involved in severe injuries or fatalities more than every other breed.

In lieu of this, it is very essential to purchase the strongest high-quality harnesses available in the market. In doing this, some key factors have to be considered such as:
1. Durability:
It is very important that the harness must be able to stand the test of time, and also able to resist any force or pressure that may be exerted by your dog
2. Security:
The sole purpose of purchasing a dog harness is for added security and safety, and it is necessary that the dog harness is secure and your dog cannot slip out at any point in time.

It must possess the D-ring or the leash point attachment and also a handle for maneuvering in difficult situations
3. Reflectivity:
Visibility at night is very important as this reduces the risk of danger to your dog. A reflective or luminous dog harness makes your dog easily recognized in the dark.
4. Stylish and attractive:
 Your canine companion deserves a stylish and attractive harness as this makes them appear attractive and stylish when out on a walk with you. And easy to put on and off 

Also read: best dog harness for stop pulling
Top Picks Best No-Pull Harness for Pitbulls
1. Petacc Dog Harness No-Pull Pet Harness Adjustable Outdoor Pet Reflective Vest Dog Walking Harness
Special Features: Reflective Dog vest, Postpositive D-ring Buckle, Reinforced handle, Adjustable straps.
Pitbull dogs are very strong and energetic dogs which is one of the reasons a very good no-pull harness is used when out with your dog. The Petacc dog harness has been specially designed to meet your requirements when it comes to dog no-pull harness.

The Petacc Dog harness helps you have good control of your dog by simply attaching the leash to the front clip. This harness is effective in such a way that anytime your dog pulls, he or she gets turned around instead of continuing forward and pulling on the leash.
The dog harness is specially designed with a sturdy handle which makes it very easy for you to manage difficult situations such as when your dog tries charging at another dog or a stranger or when you are in busy traffic or when you are guiding your dog into the car.
The harness is built for your Pitbull comfortability as it is designed using the breathable oxford fabric which is padded under the chest and will not rub or cause injury to your dog's sensitive skin such as the armpit area or the skin.
The Petacc dog harness is reflective and this helps ensure that your dog is safe and secure even at night and it makes it very easy for oncoming cars or vehicles to see your dog.
Pros
It possesses two neck straps and 2 chest straps
Strong and durable
Anti-pull dog harness
Adjustable for various dog sizes
Comfortable and padded harness
Cons
Difficult to wear in some dogs
2. Lifepul No Pull Dog Vest Harness – Dog Body Padded Vest – Comfort Control for Large Dogs
Special Features: Dog body padded vest, Anti-pull, Comfort control for large dogs
When looking for a dog harness that helps keep your dog in check at all times, the Lifepul dog harness is one of the best choices with its wonderful features and will help stop your Pit-bull from pulling.
The dog no-pull harness is designed with a handle on top of the harness so that you will have good control of your pit-bull dog just by connecting the leash and when your dog pulls the leash makes it continues moving and in no time, your dog learns not to pull.
The dog harness is made with soft and breathable padding which gives your dog comfort at all times and makes your walk with your dog more enjoyable and fun-filled.
The stitching of the straps is excellent with reflective material in the dog vest harness which will help protect you and your dog when walking at night.
The harness is made with the D-ring leash for better control of your pit bull. The back clip of the harness can with the leash when walking and jogging and with this, you have a good grasp of your dog. The surface is made with highly durable nylon material which makes the harness last long and washable.
The Life pull harness is designed with an adjustable strap with a snap-On buckle, which allows your dog to move its body freely.
The safety buckle on the harness makes it easy to switch open and closed, in other words, this makes it very easy to bring your dog out of the harness or in the harness without hurting your dog.
Pros
Easy to operate
Excellent quality
Unique and exceptional design
Cost-effective
Sturdy construction
Cons
Breastplate can't be removed
3. Sporn Dog Harness – No Pull and No choke Humane Design, Non-Pulling Pet Harness with Mesh Vest. Easy Step-in Adjustable Mesh Harness
Special Features: Mesh Vest, Easy step-in, Adjustable, No choke Humane design.
Dog harnesses for pit-bull dogs must be very strong and durable, majorly because they are full of energy and they are also a very strong breed of dog. This is one of the reasons why you must choose the best harness available in the market for your dog.
The Sporn dog harness is designed with premium quality, durable and sturdy nylon material with nickel-plated hardware so that the harness can be resilient and strong. With the harness with its weatherproof material, you can be guaranteed a secure and safe dog harness.
The harness is designed to give your dog optimum comfort, and also helps you take total control of your dog. The elastic webbing material used in designing the harness stretches as your dog moves while the exceptional mesh design gives your dog all the comfort it needs.
The harness is designed to effectively help control your dog humanely without any injury, chaffing, or choking. The padded dog harness will help you maintain a good level of control even when used for a heavy-duty dog or heavy pullers such as the pit bull.
The harness has been designed to be easy to put on and off, as it fits into your dog's body like a glove. The harness is easy to put on and remove without any fuss or hassle. The nylon straps can be easily adjusted for a comfortable fit. When your dog pulls the padded Sherpa sleeves will tighten and apply gentle pressure under the front leg of your dog. 
Pros
Easy to put on and off
Strong and durable material
High quality
Cost-effective 
4. Friends Forever Dog Harness Large Breed – Harnesses for Large Dogs
Special Features: 3M Reflective Material for extra control and safety, Dog harness with a handle.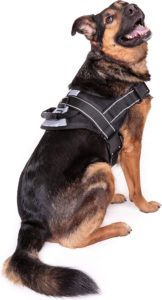 Pit-bull dogs are one of the strongest and most energetic breeds of dogs, and because of this, it is essential that you use the strongest and most quality dog harness when going out on a walk, jogging, etc. with them so as to ensure that they are safe and other people around are safe from the danger of a loose heavy breed dog.
This large breed harness is specially designed for the comfort and security of your dog at all times. The lightweight but strong harness allows the free-range movement of your dog without the risk of choking or chaffing your dog at any point in time.
The harness will make your dog secure at all times using the adjustable straps for a tailored snug fit to prevent your dog from slipping out of the harness at any point in time. The No-Pull design features the heavy-duty D-ring leash attachment which helps control your dog without the possibility of him or her choking while walking or jogging etc. with your dog.
The easy-grab harness handle of the dog harness helps prevent any random exciting take-off by your dog, majorly because the dog is always very active and excited when out with their parents on a walk or other fun activities.
The reflective material makes your dog stay visible, as this totally helps him or her to be easily recognizable by oncoming vehicles and also to ensure safety at night.
Pros
Strong and durable
High quality
Comfortable fit
Decent harness with great control
Good for big dogs
Cons
Straps are not so strong after some time of usage
5. PUPTECK Best Dog Harness with Vertical Handle, Calming Adjustable Reflective Outdoor Adventure Pet Vest
Special Features: Adjustable, Reflective 2 leash attachment points, breathable comfort lining.
Our canine companion deserves the best when it comes to basic accessories, and it is very important that as a pet parent you are not negligent about this fact. The safety of your dog and the people around should be your greatest priority
The Pupteck harness producing company is committed to producing strong and durable dog harness money can buy. The harness comes with two leash attachment points; the front attachment is designed for the no-pull benefits which are used when on a walk, hiking, etc. The rear attachment of the leash attachment point is designed to be used to attach the safety belt during car rides.
To aid maximum comfort of your dog, the harness is designed with a breathable comfort lining and the inner lining is made of quality fabric that is soft and comfortable. It is very necessary you avoid pulling the hair, so as not to hurt the skin of your dog.
The harness is adjustable as the design is carefully crafted and the harness can almost fit all dogs. This gives you less worry about the size specification of your dog. The reflective belt design help ensure that your dog is safe and secure as the bright reflective belt strap can easily be noticed.
Pros
Perfect fit dog harness
Strong and durable
Quality design and material used
Cost effective
Great for fast dogs
Final verdict Best no-pull harness for pitbull
The PUPTECK Best No-Pull Dog Harness with Vertical Handle comes on top of our list. The harness is safe and secure and it will help keep your pit-bull obedient to your every control with its amazing features. It is padded and very comfortable for your dog and there are no chances of choking or chafing. The Petacc Dog Harness No-Pull Pet Harness comes in close to the Pupteck harness. The amazing dog harness is reflective, durable, comfortable and also designed for maximum security.
Check out these models also:
Related Posts: