We all know that the most popular reward in dogs' world is a treat they like best. For us, giving our dogs tasty cookies is a way to express our love and approval for their actions, and our way to make their day. However, not all situations are suitable for giving your dog a cookie. Actually, it should be used only as a helpful trick in achieving your dog's good behavior and discipline.
Nowadays, there is a great variety of meat bites, chews, rawhides, bones, and biscuits. There are also many different ingredients you can choose for treating your dog.
There are vegetable cookies, liver treats, and bone chews, you can find special delights even for overweighed dogs, and also for those that, unfortunately, suffer from allergies and various diseases.
Ingredients Matter
Use the food for your dog like you use yours. We should be very careful of what we give our dog. Examine the small letters on the back of each package. Try to understand what is written. If you understand it all, then it is probably a healthy pack of treats. The ingredients should be familiar to you like liver, peanut butter, meat…
If you find some words that are hard for you to pronounce, then it is probably full of artificial food additives like colors and flavors. You should also consider what main food your dog eats. If the main food is meat, then it is wise to get some vegetables to give him between meals. There are many kinds of tasty dog biscuits and chews that you can buy, and there is no need for overusing salt or meat. Many dogs love to get anything tasty.
Sometimes, we have to face bigger problems. Not all dogs are healthy and strong. Here are the examples of some health conditions dogs can go through, and stay well for years, despite the troubles they have. It is only necessary to take care of the food they eat, and the activities they have.
1. If the dog is suffering from obesity:
The most common advice, if having a dog that is overweight, is to change the kind of the treats you give him, and measure the meals he gets. If experiencing this issue, you can buy dog biscuits based on vegetables like broccoli, carrot, pumpkin, etc. One more important thing to remember is not to give your dog a many gifts at a time. Be conscious of every single bite you give to your dog, and make sure you give only one veggie bite at the time.
2. If the dog is suffering from kidney disease:
A serious problem like this doesn't allow you to delay making choices about what food and treats you should take for your dog. Of course that you will choose the best balanced food and cookies for your dog, made specifically for this condition, with lowered salt and proteins.
3. If the dog is suffering from allergies:
If your dog is suffering from allergies to gluten, grain or soy, or all of it together, there is a solution for that, also. You can find lots of offers of dog biscuits that are allergen free. Also, if your dog is suffering from some kind of allergy that is not so common, then there is still a choice for you – you can surprise your dog with hypoallergenic treats, made specifically for dogs with certain allergies.
4. If the dog is suffering from bladder stone:
To avoid further forming of these mineral depots in a dog's bladder, these dogs should be given sweets without minerals and proteins.
5. If the dog is suffering from diabetes:
There are quality treats with no sugar, containing only the most complex carbohydrates and fibers, and are very low in fat. That is the right choice for this condition. In the case your dog is suffering from diabetes, the meals should be balanced by the dog's vet.
You should always consider asking the vet for advice, and never choose what to give your dog by your own. In quite a short time, dogs and their owners get used to the new regime and the joy of feeding, petting and rewarding becomes complete again. Nowadays, there is a painless solution to every health condition.
The ingredients of dog food and treats are important, even if everything is fine, and the dog is young and not suffering of any illnesses. It is wise to choose the food with real, natural ingredients, and never to give sweets that are meant for humans to your dog. For example, chocolate makes dogs sick.
However, here are some of the ingredients that can be given to your dog safely:
Cooked meat: This is allowed to be given to a dog, as long as your dog is healthy, and there is low percent of fat in the meat.
Peanut butter: Peanut butter has very high percentage of fats and proteins, but is acceptable in most of the cases, if not facing allergies.
Eggs: Hard boiled eggs are good for dogs, as they are for humans. However, the problem can occur if consuming raw eggs. They can suffer from hair loss, or get salmonellosis disease, as humans can too.
Vegetables: Cucumber, baby carrots, broccoli, pumpkin, green beans, spinach and sweet potatoes will not make confusion in a dog's stomach.
Fruits: Apple slices without seeds, banana slices, blueberries, pear or apricot will make a fresh break for your dog. Avoid citruses in wide range!
Choose the Best Bites for Your Dog
There are many kinds of treats for dogs, and you can find whatever you can imagine on the market. There are cookies, biscuits, chews, dental treats, hygiene treats, rawhides… There are many ways to reward your dog for behaving well. Here are some of the best healthy dog treats, and they are all 100% natural:
1. Jerky treats
This is a five star rated product, without common allergens, made from beef and slowly roasted. It's been smoked for 15 days to get that scent dogs can't resist. It obviously is one of the favorite treats for dogs. It is a high quality product, without any artificial additives or fillers like soy, gluten, wheat, or corn.
This is a product made with your dog's health in mind. Even puppies can enjoy these treats, because it is possible to break them into smaller pieces. They are made in USA.
2. Liver treats
Also a five star rated product. No additions, no wheat, corn or gluten, perfect for your dog's health and teeth. They come packed in a bag with a foil line, to keep the treats fresh. They are made in USA.
3. Beef Jerky
Also made in USA, this is one of the best rated products. Free from grain, soy, wheat and corn, makes the best choice for your dog. It is 100% natural.
4. Greenies Pill pockets
Those are surely very popular in dogs' world. These are the pill pockets, where you can put a pill that your dog is supposed to take.
Don't worry, no matter how bad the pill's taste is your dog will surely eat it along with the tasteful canine treat.
5. Greenies regular
A five star rated product, well known and very popular. These are the best dental treats for dogs, as many people say. There are variations, depending on what you need.
You can buy Greenies for strengthening hips and joints, Greenies for weight loss, etc. This is the best way to keep your dog's teeth clean of plaque and tartar, and it is designed to be used daily.
6. Hills – Ideal balance soft– Baked Naturals
These are chewy small chops that suit every dog's teeth, no matter of age and how big the dog is. These are the best treats for puppies. There is very brief ingredients list, no corn, wheat, soy, or artificial colors and flavors. They are made from real natural meat, and they help gaining muscle mass.
You can choose between many kinds of dogs' treats. For senior dogs, it is better to choose chewy or soft, crunchy cookies, to prevent teeth damage. For little puppies, the main thing is the size of a bite you give them. They will probably love every kind of treat, because to them, everything is interesting, especially if they are experiencing new tastes and scents.
You don't have to worry about the relation between nutrition and age. If you don't give them too much of it, it is suitable for any dog or a puppy.
However, you should still pay attention to where your treats come from. That's why it's important to read our article on the hazards of buying dog treats from China.
Our Dog in Our Kitchen
Our kitchen is full of groceries that can be harmful to our dogs. It is not wise to place them where your dog can reach them, as well as it is not acceptable to serve them in the meal for your dog, even in very small amounts. That would be properly called playing with the dog's immune system. Cheese, milk, chocolate, onion, garlic, grapes, raisins, any kind of sweetener and sugar, as well as salt and other seasoning and dressing, we are not allowed to give to our dogs.
Raw meat and fish, sugary foods and drinks, and human medicines are not for dogs, or any other animals. It is hard to believe that there are people who think that it is safe to give coffee, tea, or alcohol to a dog. No, it is more than unethical, and no one should ever do that.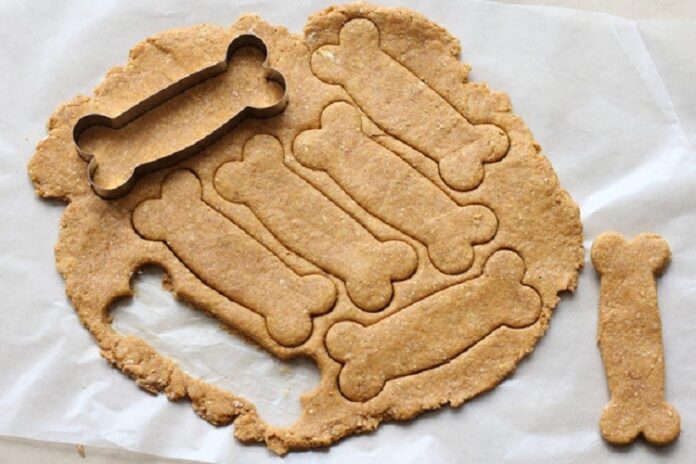 In order to save money, and make your dog a lovely homemade treat, you can take some time to make awesome cookies and snacks, avoiding all the artificial additives like flavor and color or taste fillers, as well as these groceries that can harm your puppy.
Here are some recipes for the best homemade treats for dogs:
Leftover bites:
Meat
Potatoes
Vegetables
Fruits
Cut ingredients into pieces about half-inch, and dry them in the dehydrator, or in the oven. That's it!
Sweet potato chews:
Wash and peel sweet potatoes. Slice them into ¼ inch thick slices. Put them in the oven, and hold them there for about 6-8 hours at 145-150˚F (about 65˚C), to get chewy sweets. You can wait a few hours longer, to get crunchy sweets.
Homemade liver treats:
Ox liver (it is affordable and easy to handle)
Here is one more recipe that takes hours to make: Cut the liver into strips and dry it in the oven, place it on a wire mesh tray, at 160˚F (70˚C), for 7 hours or more. You will get crunchy treats that you don't have to refrigerate, and they will last for a few weeks!
Healthy banana snack:
1 egg
1 cup of oats
Half of a banana
1/3 c of milk
1/2 c of flour
1/8 c of rice
Beat the egg, and squash the banana. Stir all of those ingredients well, and heat it in the microwave for 4 minutes. That is it! You can cut it into lovely forms and give it to your dog. You can also bake chicken, beef, or any other kind of meat slowly in the oven, and you will get perfect dog bites when you slice it into bite-sized pieces.
If you're interested in more dog treat recipes, you'll have fun reading our article on the five great recipes for homemade dog treats.
Count the Treats!
Regardless of the treats' quality, don't exaggerate the quantity! Almost every dog enjoys them more than anything else, but if he wants more than 10% of his total caloric intake, then you have to take control over it! It is easy to overfeed the dog with these tasteful sweets because of the wonderful feeling when giving someone the thing he enjoys the most.
However, many dogs are facing a problem with obesity, because of the dog biscuits we give them every day! Since the most caloric treats have a really fantastic taste, they give the pleasure that usually can't be replaced with carrots or any vegetable cookies. The dog simply refuses it, when it comes to that change. Therefore, it is maybe better to wisely choose the treats you will offer to your dog, from the beginning.
If your dog is a little pudgy from eating too many treats, here's a detailed article on how to help your pooch lose weight.
If you start with carrots and broccoli, you can then keep all the pleasure, and you will never be afraid of obesity or any other condition that could occur if the dog is overfed with these tasty bites. However, this doesn't mean that you have to be afraid of meat, because the most quality products are based on meat as well, but with low fat and no artificial additives.
The best way of thinking about the treats is that those are literary the "treats" and they are made to make a dog feel treated special when achieving goals like good behavior or cooperating well with his owner.
That is what the tasty chews and crunches are for, in the first place. Choose small treats for training, to be able to reward your dog every time when it is needed, without the fear that you will overfeed him. If it sometimes happens, you can reduce a bit his meal, achieve a balance in calories for that day.
When it comes to feeling sorry for your dog's condition, and when you have to carry him because of his unwillingness to walk or exercise in any way, then it is a bit late to start with vegetables. It is sad and painful for both of you, and there is a long period of dieting which is most unpleasant for both.
Count your treats. That is the easiest way to notice and reduce excessive feeding of your dog with treats if needed. It is a safe way to enjoy the sweets and all the activities together, for a long time.
How to Use Dog Treats?
These refreshments for dogs are made to satisfy your dog's need for approval and for being awarded. These things also work as an instrument of stimulation which helps to make a compromise, when your dog refuses to behave well.
In most such cases, a simple reaction will do. Don't give him that cookie! In a while, your dog will come to you keeping calm and waiting to get one. Then, it will be a deserved reward and will make better sense to you and your dog. No matter what happened, you should never give your dog a gift, if behaving badly.
Here is how to reward a dog and not to approve too much of his excitement:
Pull out the treat. Be sure that a dog can smell one from 25 meters away! It is enough to put it out of the bag, for him to feel the scent of it.
Hold it in your hand, raised up, and wait until your dog calms down. Be ready to resist to his yelping and jumping on you.
Give your dog a nice treatment. Don't ever yell, and try to give assistance if needed, to help him calm down. At first, give him a model of behaving, and do it always.
Finally, when his bottom is down on the ground, and the eyes are on you, don't hesitate to give him his sweet reward. Don't wait for the jumping to begin once again!