If you're a fan of hiking but also passionate about your dog, then you'll know there's no better feeling than setting off on a trip with your four-legged friend.
Whether you're heading off on a long multi-day hike or a quick half-day walk in your local area, there's many products available these days to make your hike even more enjoyable. Keep reading for our round-up of the best dog backpacking gear.
Comparison Table:
Hiking gear for dogs can range from doggy backpacks, to specialized leashes and of course the all-essential poop bag! These are designed to make your treks more enjoyable, no matter how long you're going.
There are a number of different things to consider when you're thinking about which gear to purchase for your dog.
What Backpacking Gear Should I Buy for My Dog?
This really depends a lot on the length of hike you're planning on doing.
Some equipment such as a leash and poop bags are pretty much essential no matter how far you're going, but whether or not you decide to invest in some other gear such as harnesses and doggy backpacks will be determined by the sort of backpacking or hiking you're going to do with your dog.
Here are a few things to take into consideration.
Types of Leashes
1. Standard Leash
You might be a fan of a standard short leash with a clip on one end and a loop for your hand on the other, but if you're hiking for a considerable distance there are a few other specialized leash options that you might want to consider.
2. Bungee Leashes
These are designed to absorb more shock than a standard leash as they contain a length of reinforce elastic which stretches as your dog moved forward, cushioning some of the force from them. These leashes are often designed to be used hands-free and attached to a waistband.
This is great if you need both hands free to support yourself on tricky sections of trail, or just enjoy the freedom of being able to take photos whilst not worrying about what to do with your dog's leash.
4. Retractable Leashes
This leashes are also a great option if you are on a hiking trail which requires your dog to be on a leash all the time, such as the Appalachian Trail, as you can give your dog some additional freedom by making the leash longer if you wish.
These usually come with a bulkier plastic handle which contains the additional leash and a spring system to release or retract the leash as necessary. This is controlled by a small button on the top, usually operated with your thumb.
Top Picks Best Dog Backpacking Gear
1. Collapsible Travel Pet Bowl
Dimensions: 6.5 x 2.5 inchesCollapsible Travel Pet Bowl
Specific features: Collapsible, waterproof and with a handy clip
Best use: Great for all dog owners, whether you're on a short summer walk or long multi-day hike
A set of two collapsible bowls, these are perfect for any trip with your dog. Collapsible Travel Pet Bowl is designed to be rolled up when you and your dog are ready to head off, but you can also collapse them flat and slot them into your backpack.
Once packed, the bowls are extremely compact and light, and you can even attach them to your dog's collar or to the outside of your backpack, using the clip.
The material is a tough blue canvas with a black waterproof lining. The size of these bowls when unrolled is perfect for any size dog, or even cats. The 2.5-inch depth means that there is plenty of room for a big drink for your furry friend.
Users were impressed with how well these bowls held their shape when filled with water, so there's no need to worry about accidental spillages.
The clip is secured to the bowl by a piece of elastic, so once you've rolled the bowl up you simply pop the elastic around it to hold it securely, and clip it to whatever you like!
The bright blue color will be easy to spot as you pack up your lunch spot or campsite, so there's no chance of you leaving them behind. They are also lined with a waterproof lining, which also makes them easy to wipe clean if you have fed your dog wet food.
2. Hands-Free Dog Leash
Dimensions: Leash ranges from 5 ft (un-extended) to 7.5 ft longHands Free Dog Leash
(bungee fully extended), 1"wide. Waistband is 1.5" wide, adjustable from 29" to 49". Waist pouch size is 7.8" x 4" x 1.75".
Specific features: Reflective bungee leash with waistband and pouch
Best use: Hikers with dogs using trails which require dogs to be on a leash at all times.
This Hands Free Dog Leash comes in a range of colors, so you're sure to find one to suit you. This is equally well suited to hikers on multi-day treks, or people running with their dog. The waistband is easy to adjust and fastens with a quick release buckle clip. The reflective bungee leash is designed to absorb any shock from your dog pulling, and attaches easily and quickly to the waistband.
This also comes with a waist pouch with separate pockets designed to hold essential items such as your phone and dog treats. The leash also has a standard handle so if you want to un-clip your dog for any reason you can hold the leash as normal.
Users have commented on how well made and heavy-duty this leash is, well able to stand up to some tough use on those hiking trails.
However, the pouch is not as well made as the rest of the product as some users reported that the loops on the back of the pouch broke after limited use. Additionally, if you have a particularly small breed dog, you may find this leash a little too chunky for them.
As a bonus, this leash also comes with a free dog care and training Ebook so you can work on making your relationship with your beloved companion even better than ever.
3. Ruffwear Adventure Harness
Dimensions: XX-Small to X-LargeRuffwear Adventure Harness
Specific features: Customizable fit with padded chest, leash attachment points and reflective trim
Best use: Great for hikers who want flexibility and control over their dog
This harness comes in seven different colors and five sizing options. There are no less than five points of adjustment on this harness which means that no matter what size your dog, you're guaranteed a perfect fit. The additional padding to the chest and belly area ensure that your dog is comfortable in this harness, even all day.
The Ruffwear Adventure Harness has two secure attachment points for your leash, to give you both flexibility and control. Whilst the aluminum v-ring on the back of the harness is suitable for everyday relaxed walking, you also have the option of attaching your leash to the reinforced webbing on the dog's chest which provides additional control when training.
The reflective trim on this harness is great for low-light conditions, and the harness also comes with an ID pocket to store your dog's identifications tags or additional information. The multiple adjustment points on this harness ensure a great fit but some users have found this is much easier to adjust when the harness is not on the dog.
This is a great harness if you are trying to train your dog out of pulling as the front attachment point can be used to discourage this. Some users have mentioned that this harness caused slight chafing on their dogs so that's something to bear in mind if you plan on using this for long hikes, or your dog has particularly sensitive skin.
4. AMK Me and My Dog Medical Kit
Weight: 1.5 poundsBest Dog Backpacking Gear: For Adventures with your Canine Companion
Dimensions: 7.6 inches high
Specific features: Lightweight medical kit packed in its own carry bag
Best use: Extensive portable medical kit perfect for long distance hiking with your dog
This compact and portable medical kit contains all you need to keep you and your dog safe on your hikes. It contains all the equipment you need to deal with minor accidents including a wide selection of bandages, antiseptic wipes, antibiotic ointment, emergency blanket, moleskin and much, much more.
The included triangular bandage can also be used as a muzzle on your dog, as a precaution before safe administration of any first aid. Despite the wide range of contents, the AMK Me and My Dog Medical Kit is still compact and light enough to easily be stowed away in your backpack.
This medical kit comes complete with a field manual, which is a comprehensive guide to wilderness and travel medicine. Whilst this kit is very well stocked, users noted that there is enough space to add a few items of your own if you wanted to.
5. Taotronics Retractable Dog Leash
Dimensions: 16 ftTaoTronics Retractable Dog Leash
Specific features: 16 ft long retractable leash, ergonomic handle
Best use: Easy control when you need to have your dog on a leash but want to allow them some additional freedom
This retractable leash has braking, release and recoil functions which are all easy to operate one-handed. The leash extends to 16 ft. which means you can give your dog some extra freedom whilst still knowing that you're in full control should you need to stop your dog. The handle is ergonomically designed, with an anti-slip handle which will not become slippery in wet weather.
The casing of the handle is a durable ABS plastic which will stand up to repeated use. The leash is stated as suitable for dogs weighing up to 110 lbs, but some users have not found this to be the case.
TaoTronics Retractable Dog Leash also comes with a free roll of plastic poop bags in a handy bone-shaped holder which attaches to the handle of the leash with a handy clip.
Some users commented that the handle on this leash is not that large, so if you have bigger hands then you may want to bear that in mind.
Some users have complained that this leash is not as heavy duty as they would have liked, and the leash does not always retract so they have to spend time fiddling with the button.
6. Ultra Paws Durable Dog Boot
Dimensions: Available in six sizes, petite to extra-largeUltra Paws Durable Dog Boot
Specific features: Flexible, skid-resistant soles, Velcro straps for easy and secure closure
Best use: To provide extra protection for your dog's paws in very hot or cold conditions
These boots provide your dog with additional protection from the elements. They come in black or red, with an anti-slip sole which will provide extra traction is snow and ice, as well as offering protection against residue from rock salt used to grit roads that can cause damage to your dog's paws.
The material of these boots is quite thick so they will also provide protection from very hot surfaces which can also damage your dog's delicate paws.
These can be machine washed on a cold cycle when necessary. Ultra Paws Durable Dog Boot come with a double Velcro strap closure, designed to ensure you can fit these perfectly to your dog's paws. Some users found that when worn for a long time (typically indoors on an older dog) these boots did cause some irritation to their dogs paws.
If you decide to buy these boots, measure your dog's paws carefully to ensure the correct sizing. The boots can be a bit difficult to put on but the Velcro closure is very effective at keeping them in place once they're on.
7. Earth Rated® Dog Poop Bags
Dimensions: Each bag measures 9 x 13 inchesEarth Rated Dog Poop Bags
Specific features: Ultra-long, easy to open bag
Best use: All dog owners cleaning up after their dog on long hikes or walks around the block
These essential poop bags come in either unscented or lavender scented options, in packs of 8 rolls (120 bags) or 18 rolls (270 bags). The rolls are designed to fit perfectly in the Earth Rated leash dispenser, but also fit all standard sized dispensers.
Earth Rated® Dog Poop Bags are bigger, thicker and tougher than most other poop bags on the market. They offer quality and affordability as well as biodegrading more quickly than your average poop bag. These bags are quick and easy to open, as well as tough enough not to rip.
These poop bags are also longer than most other options on the market, which gives added protection further up your arm rather than just covering your hand.
Whilst these bags are not compostable and do take a long time to break down in landfill, they can be considered more eco-friendly than some poop bags, as they also contain a recycled cardboard core as opposed to plastic which is more common.
8. Outward Hound Dog Backpack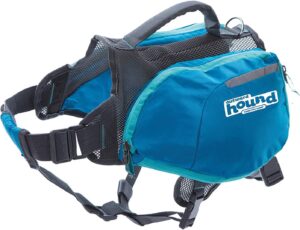 Dimensions: Three sizes, from small to largeOutward Hound Dog Backpack
Specific features: Expandable pockets, comfortable mesh and reflective accents
Best use: Dog hiking
This DayPak is a doggy backpack, designed to allow your dog to comfortably carry some of your essential hiking gear. The saddlebag design features four expandable pockets which can be filled with lightweight items such as medical kits, collapsible bowls, and dog treats.
The Outward Hound Dog Backpack fits similar to a standard harness, and also comes complete with a D-ring clip to the top which allows you to attach your dog's leash.
This comes in a choice of two vibrant colors, making it easy to see your dog even from a distance. Both color options come with reflective accents to enhance the visibility even further, especially in low-light conditions. The weight is distributed over the shoulders as opposed to the back, allowing your dog full freedom of movement.
The handle on the top of the pack allows you to steady your dog over rough terrain or help them up rocky parts of the track, if necessary.
Most users were happy with the lightweight yet durable quality of this product however some did note that if the dog brushes up on a rough surface then the bag may get scuffed and can rip.
What Hiking Gear Will You Choose for Your Furry Friend?
Consider what sort of hiking you do with your dog and plan to invest in some new kit in the near future.
Whether you're looking for a new leash that allows you to have your hands free, or a way to protect your dog's paws from blisteringly hot summer trails, you can rest assured that there are some great products out there to suit you and your canine companion.
If we've missed your favorite bit of kit off the list and you want to let other dog owners know about it, please leave us a comment!