Have you ever wanted to ride your bicycle, but also wanted to spend time with your dog?
I guess that you are one of those people who enjoy biking a lot more than you enjoy going for long walks?
Now you have the option to do both!  You don't have to choose between your fitness goals and spending time with your dog!
You don't have to be limited to just walking with your pet! The experts and researchers all agree that getting a pet can be the best thing for fitness, general well mental, physical and emotional well-being, and a great source of companionship.
Generally, people who are faithful to exercising their pets have better fitness themselves.
Lastly, we have reviewed various types of bike trailers and we have chosen the best dog bike trailers in our reviews.
Top Picks Best Bike Trailer For Your Dog
1. DoggyRide Mini Dog Bike Trailer
This unit folds down easily by releasing one pin. The maximum dog is would be a shoulder height of 15". The trailer includes an interior leash and leash hook-up for rider safety.
There is a protective rain screen included in the front panel. Included is a wheel holder for the stroller wheel.
The rear door has easy access along with an included pouch and water bottle pocket and the Interior cabin dimensions are 23-Inch L x 15-Inch W x 22-Inch H
Advantages and Disadvantages
This trailer is VERY well built! It has a sturdy metal construction with nice thick welds. This trailer corners nicely and is lightweight and durable. It is so easy to hook onto a bicycle with the two pieces that fit together along with the toggle pin with a safety bar that snaps closed over the pin.
A strap is also included that goes around the frame of the bike for added safety measures so if in the event the pin ever came out the trailer is still attached to the bike.
It was very easy to assemble – no tools needed! As a bonus, the trailer can also convert to a stroller if you purchase a separate stroller handle.
The front panel is meshed and see-through which allows for visual of the dog(s).
The mesh is strong and seemly indestructible. The sides also are vented with the same mesh, so pets can see out from all sides.
The back is solid canvas with a pocket for things like leashes and it also has a water bottle mesh pocket. The front has a fold-down clear vinyl window if it rains or you can purchase a separate rain cover for the entire trailer.
There are two reflectors that go on each side of the rear of the trailer. There is also a top opening that zips shut that you can place or remove your pup through.
2. Schwinn Rascal Pet Trailer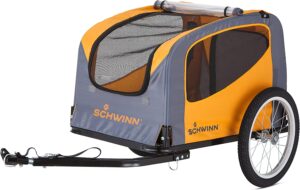 This trailer liner has a non-slip surface. It will provide a safe and comfortable riding experience for your Pet. It's easy to remove and it is washable. It has an exclusive folding frame and rapid-release wheels arranged neatly for compact storage and transportation. The frame Material- Steel made.
It provides a universal coupler that will attach easily to nearly any bicycle (one-time installation). The wheels are made of rubber and the rim is made of aluminum which does not get rusty from the rain.
The trailer boasts an adjustable leash that prevents dogs from jumping out and holds one dog up to 50 lbs. The doggy door in the rear allows for ease of entry and exit.
The t16 Inches tires and the aluminum rims offer a smooth ride. An additional bonus is the adjustable bug screen to protect your pet from mosquitos and other pests.
Advantages and disadvantages
The bike trailer is easy to put together for one person. You will need to air the tires so make sure that a pump is handy. This bicycle trailer is made with exceptional quality. It is easy to fold up and easy to store. This particular bike trailer fits nicely in a small trunk.
The bike trailer works on a variety of bicycles including those with quick release for the rear wheel. There is a spring-loaded hinge that accommodates different heights and angles. One of the perks is that there is room for a large dog and additional items such as bottles of water.
One advantage is that it is very lightweight and easy to pull. The plastic window successfully keeps out high winds and rain as well. The suspension is made well to absorb the shocks of the road and give a nice ride.
There is also a handy pocket on the top to store the pins during storage. This is a functional and practical bike trailer. It fits a variety of bike styles and sizes. It is lightweight and sturdy. The mat comes out for easy clean-up.
There are very few complaints about this bike trailer. Several people mentioned that it would be better if the bike trailer enclosure was a double zipper, so it could be opened halfway.
Instead, it has only one that goes from one side to the other which means it's all or nothing – open or closed.
3. PetSafe Solvit HoundAbout Aluminum Steel Bicycle Trailer
With this bike trailer, your pet will ride in comfort. The front door has a waterproof layer and a mesh screen layer. The rear door has a mesh screen with a sunroof. This will give you many options for your pet. A cushion is also included for comfort.
This trailer offers durable construction. It is made from 600d polyester and has a waterproof floorboard with an aluminum frame. The tires are 20 inches and come pre-filled with air. Additionally, this trailer offers security.
There is an adjustable safety leash that will secure your pet while in transport. The trailer has reflectors on the cabin and each wheel for increased visibility. You can easily assemble and fold it down. The dimensions are 33 x 22x 26 and overall dimensions are 55x 33 x33.
The trailer is easy to clean. The cloth cabin and windscreen are able to be cleaned with a damp cloth or sponge. The interior cushion can be machine washed and dried at low heat.
DISCLAIMER: While this trailer is strong and durable it is for pet use only.
Advantages and Disadvantages
Customers are happy that the trailer is well made, with zippers, canvas, netting, and all. The bike trailer is easy to assemble and is made with a very sturdy design and material.
One feature that was praised often was that it collapses and expands easily. The rubber mat included with the trailer can be easily taken out to clean.
Another feature that was liked was the side pockets as they come in very handy. On the Large Trailer, the Length x Width x Height dimensions of the "cabin" are 33 x 22 x 26 (inches).
When fully assembled, the overall trailer dimensions (including wheels and bicycle attachment arm) are 55 x 33 x 33. When folded down for storage, the dimensions are 33 x 29 x 9 and it weighs only 25 lbs.
The wheel size is 20 inches and it is suitable for pets up to 110 lbs. The rear entryway is 18 inches wide, and 16 inches tall.
Quick setup and breakdown
Collapsed size is still large, but much better for storage options
Wheels pop on and off rather easily for a breakdown but are securely mounted
Side pockets are very handy.
The zipper and material seem to be of good quality. No construction issues.
This is a wide trailer, and some customers have had trouble getting it through doors. But, overall there are very few complaints about this bike trailer, except for the fact it is not waterproof.
Although it has a clear shield for the rain in the front, there are other places for rain to get into the cargo area so that your pup has no guarantee of staying dry.
Also, smaller bikes mean that the dog must ride at a slight slant and that was off-putting to one.
Lastly, customers would like the sunroof to have options, but it is either open or closed.
4. Aosom Elite Pet Bike Carrier-Trailer -Red-Black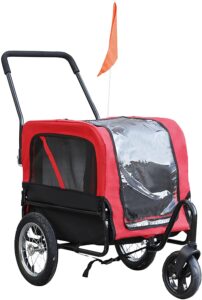 This awesome bike trailer is easy to set up and fold down for transporting and storage. The front door has a removable plastic cover for weather protection.
There is a mesh zippered front and back door. The door has easy loading and unloading. The trailer includes an inside leash hook to safely secure your pet.
Finally, the maximum loading weight is 66 lbs. The Trailer Weight is 32 lbs.
Advantages and Disadvantages
The Aosom Elite Pet Bike Carrier is made solid. It is made of steel and is obviously very durable. This feature makes for safety and longevity. Most customers feel that the product was great, especially for the price.
This bike trailer pulls very smoothly and turns easily. It feels stable and light in use. Several customers liked the ease of assembly and the fact that it is easy to collapse as well. The pet can ride with the front flap open as well as stick his head out the top roof flap as well.
Customers and pets both seemed to love this feature. The fact that there is a great deal of room inside is a plus for many. Depending on your dog's size there is room for groceries and other miscellaneous items!
Some customers had no trouble with assembly and some customers had to resort to YouTube Videos for assistance. Those who had to use customer support felt that the company had a good support system in place.
Lastly, the tires do not have the longevity that several customers would have liked. And nearly every customer mentioned the fact that new it has a chemical smell that must be aired out or washed before use.
5. 2 in 1 Pet Dog Bike Trailer Bicycle Trailer Stroller Jogger
This is the Best Choice product is lightweight and made with a sturdy steel frame. It has water-resistance polyester that will support up to 66 lbs.
Dual bug screen and weather-resistant canopy that will keep your pet protected from both sun and rain. There is a locking brake system included for when the trailer is not in motion.
And a cool feature: Included a safety flag for ease of visibility in traffic
Advantages and Disadvantages
This bike trailer is easy to assemble and disassemble for travel. The tires absorb the shock, so the ride is smooth. It is easy to pump up tires with a bicycle pump.
The mesh allows for ventilation and the sunroof provides shade. Customers recommend having your pet wear a harness because the hook inside the buggy will clip onto the harness and act as a seat belt to ensure your pet's safety and security.
Another plus is that there is plenty of room in the trailer for treats, water, and towels and the side pockets will hold poopy bags, disassembly tools, and even WD40.
The engineering is fantastic & you won't be disappointed. The front of the compartment is soft and unsupported by anything solid, so you can place a sheepskin there for laying down.
The rear of the compartment is like a board, so a perfect place for your pet to stand or sit and watch people pass. When he/she gets tired of standing or sitting up, they can go to the front and on the softer part.
The compartment is large enough to place a large dog (with the roof of the trailer zipped open). The solid part of the bottom is large enough for the large dog to sit on, but they will not be able to stand or turn around easily.
The construction of this is very sturdy and the large rear wheels with shock absorbers make for a very steady ride, even over gravel and bumpy pavement. The trailer does fold up for placement in a trunk, but it takes time to break it down and it's much more convenient to transport it in one piece in the back of a truck.
It is lightweight (25 lbs. I think) and can be lifted into the truck without assistance, although it is large and awkward and would be better to have two people load it.
It is highly recommended for anyone who is tired of having to leave their dog at home all day while they go on long bike rides.
The only single negative is the front is very light. So, if your pet moves into the back of it when left alone in stroller mode, it can actually flip backward.
So, it would be wise to not leave your dog unattended (when you are using it as a stroller) if even a few feet away.
Tips to train your dog to ride in a bike trailer
If you have had the opportunity to have any exposure to bike trails then you have seen many dogs sitting happily in a bicycle trailer being pulled behind their owner's bike.
Check here for the best training tips.