We all want our pets to look good, but sometimes they need an extra pizzazz and you don't know where to look. Have you ever considered adding a bit of color to your dog's nails?
Dog nail polish isn't a new trend, but it's not one many people have heard of. You can add a little flair to your dog's looks with a little bit of sparkle to their nails.
But there are some important things that you must know of before you start using your own polish on your dog.
Popular trend
Ever since Hollywood stars have started carrying their small dogs around with them to events, their dogs have become fashion accessories.
In order to keep them looking good and to coordinate with their outfits, it's not unheard of for their dog's nails to be painted in order to match their ensemble.
This trend resulted in a boom in the dog couture industry, leading to fashion designers creating beautiful diamond-studded collars, carrying bags, clothing, and pet nail polish.
In case you are asking yourself, nail polish designed for dogs is incredibly safe; nail polish for humans, on the other hand, is quite toxic. This can be a problem considering that dogs may frequently lick or chew on their nails.
Nail polishes for humans contain three toxic chemicals that can make your dog extremely sick:
dibutyl phthalate
toluene
formaldehyde
These three chemicals are extremely dangerous and represent health risks to your dog if they're ingested. Ingestion can lead to chronic conditions such as asthma, developmental problems, and other illnesses.
Other serious health problems can occur when they're inhaled, and dogs can be more sensitive to chemicals than we are. The most important thing you can do is read the labels of the products you are buying to ensure that none of these chemicals are present.
It is recommended that you refrain from using your own nail polish on your dog. Instead, purchase a quick-drying, pet-safe nail polish and polish remover. Your dog's feet and nails should be inspected before application for open sores, tears or cracks.
The use of nail polish and polish remover can aggravate these conditions and make it more uncomfortable for your dog. Don't allow your dog to lick or bite at their nails before they are dry, and if they do so afterwards, then it might be best to remove it altogether.
The great thing about nail polish that is safe for pets is that it is made from all-natural ingredients. These ingredients aren't designed to harm your dog, even if they're ingested.
The most commonly used ingredients are seaweed, aloe, green tea extracts, and vitamin E. Rather, these ingredients can be quite beneficial to your dog's nails.
Availability of colors
If you want your dog's nails to match your own, you won't have any problems trying to find the right tint.
Dog nail polish comes in a wide variety of colors, and though it's not as extensive as the palette for humans, it's still quite large and manufacturers are constantly creating more and more colors to be used on pets.
There is the typical rainbow of colors, and there are even some clear shimmers that are being made to add a little more sparkle to your dog's look.
How to apply dog nail polish
Some believe that it's as easy as putting polish on your own nails, but it's a multi-step process that involves a lot of stops and starts. One of the first important steps you need to do is to trim any hair away from your dog's nails.
If this is the first time trimming the hair on his toes, then you're going to need to exercise a lot of patience, especially if your dog is fussy about his feet.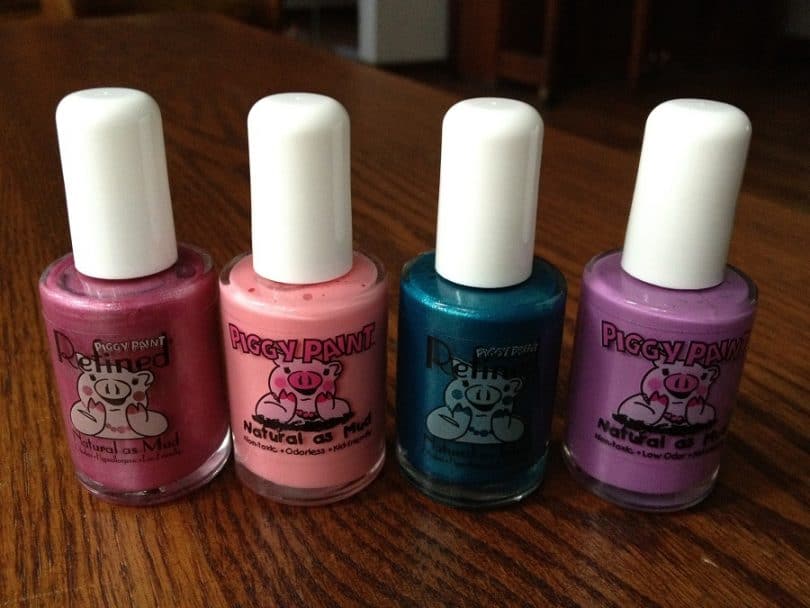 The second step is to trim his nails. If they are too long, then the nail polish will flake off when he walks. They should be cleaned with a nail brush to remove any dirt or debris from his nails, and they should also be expected for any cracks. Putting nail polish over dirt trapped on your dog's nails can lead to a nail fungus growing.
After the trimming is done, it can be a good idea to use a nail file made of glass to make it smooth. Glass nail files allow you to see how much of the nail you're removing, and they can be completely sanitized very easily.
Glass files also prevent splitting and breaking of the nails in the process, so you'll have a smoother look and feel.
Once that is taken care of, the best time to paint your dog's nails is when he is calm. Doing so when he is excited will not only lead to mistakes, but it will also be an unpleasant experience for your dog. When he is calm, keep a handful of treats nearby, when you start the polish painting process, as a distraction.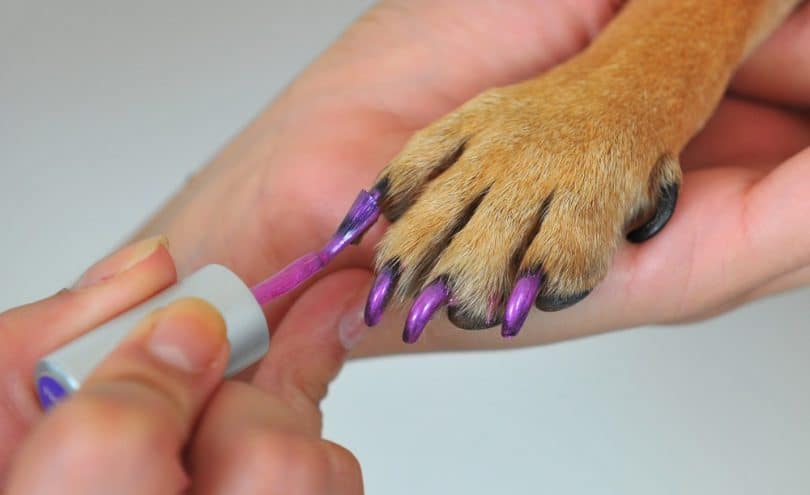 Try one foot at a time, speaking to your dog in soothing tones to keep him calm and offer a treat whenever he behaves well. After applying polish to the nails on one foot, wait for it to dry. The polish is designed to dry quite quickly so that your dog won't lick it off.
Again, if your dog becomes excitable after this process, allow him some time to calm down. If he does become agitated during the process, it's okay to stop and let your dog rest. Provide some treats in order to make him more at ease. Once all four paws are taken care of, you may have to apply a second coat in order to achieve a brighter color.
It can be a little unnerving at first to try and get the job done perfect the first time, but this is a task that is going to require some practice. You'll become accustomed to the shape of the nail so that you can learn to paint much faster with each session.
If your dog does tend to move a lot, it might be a good idea to wrap his paws in clear wrap with the nails poking through. That way, if he does move, then you won't get any polish on his fur.
If you do get some on his fur, you can use a cotton ball and dog-safe polish removal to clean it off. A good way to keep your dog still in the process is to have someone help you lift one paw and then paint the nails of the opposite paw. It can be difficult for your dog to move while he's trying to balance on only three legs.
What to do for black nails
Most dogs have black nails, and it can be difficult for the color to come through correctly. In these cases, a white base coat can be applied, and then the nail polish color on top.
It won't look perfect, but it will definitely make the color easier to see. You may still have to apply a few coats of the color in order to create an even look.
Using the right nail polish remover
When you're ready to remove polish from your dog's nails, avoid using acetone. This is another chemical that is toxic to your dog. It can also dry out their nails too much and cause them to break more easily.
Many non-toxic nail polish removers are soy-based, so they're not only safe for your pet, they're also good for keeping nails moisturized. They also tend to be biodegradable, so they're also good for the planet.
All you need is a bottle of remover and a few cotton balls to get rid of the nail polish. Once you're done, simply throw them away.
Polish pens
Another option that you can use instead of nail polish is nail polish pens. These make it a lot easier to add color to your dog's nails without having to wait a long time for them to dry, and you'll make less of a mess if your dog is fussy.
Most polish pens are water-based and have no odor. They're also non-toxic and dry in less than a minute. That way, your dog won't be waiting around for a long time before he can go back to doing his own thing.
They come in a wide variety of colors, and the polish pens make it easy for you to draw your own design on your dog's nails. Try stripes, polka dots, or if you're feeling creative, draw some daisies on his nails. Only one layer of application is necessary to get the brightest colors.
To use, the polish pens should be shaken well in order to get a smooth application of the polish. Then, remove the cap and press the nib straight down onto a protected surface in order to get the polish flowing into the nib.
Hold the pen this way for about a minute or so and then apply directly to the dog's nails when you are ready. When you're ready to remove the polish, simply use dog-safe polish remover and then rinse it off.
Groomer salons
When push comes to shove and you're having difficulties trying to paint your dog's nails yourself, you can always opt to ask your groomer to do it for you.
Many dog groomers and doggie salons have started including dog polish as options for grooming packages. They'll be willing to do the work for you, and your dog can have marvelous nails in the process.
Top brands of dog nail polish
Some of the big name brands in the business have started getting into creating dog nail polish in order to expand their markets. Names like OPI's Pawlish line, Juicy Crittoure, Color Paw, David Nail Polish for Dogs, and Plush Squeaky Nail Polish provide such a wide range of colors for you to choose from, that you may have a hard time deciding.
And new colors are being created all the time.
You can find many of these brands at your local pet store or online at Amazon.
Some of the dog nail polishes you can find are:
Warren London pawdicure polish pen for dogs: this water-based polish for dogs is non-toxic and dries really quickly. You only need one layer to create a great look for your dog. You can draw designs on your dog's nails, and the pens are available in thirteen different colors. Go for one color, or paint each nail a different color of the rainbow. The choice is entirely up to you. Each pen costs about $10.00.
Puppy paint nail polish: a non-toxic polish that has been designed with dogs in mind. It has a very low odor, so it won't hurt your dog's nose, and the formula is hypoallergenic. A bitter flavor has been added to the polish for aesthetic reasons, so that your dog will avoid licking them on a frequent basis. Puppy Paint is available in five different colors, and each bottle costs about $8.00.
Top Performance color paw: if you're looking for a large variety of nail polish colors for your dog, then Top Performance is the brand for you. From flat colors to glittery glazes, there is a color for every occasion, and you can even coordinate with your dog. It's fast drying and is water and chip resistant, so it's designed to last a long time.
You'll get quality results in just seconds, allowing your dog to be ready for his walk in a matter of minutes. Let him strut the sidewalk in style with these fashionable colors. With the wide range of colors, each bottle only costs roughly $3.00, making these an excellent choice for those who want to add variety to their dog's fashion sense.
Puppy paint nail polish remover: when you're finished with the color on your dog's nails, don't forget to keep a dog-safe nail polish remover around. This remover has no acetone and a low odor, and will help to keep your dog's nails healthy.
No matter how you choose to add some color to your dog's nails, it's important that you do so safely.
Dogs can be quite sensitive to certain chemicals, and they can even become very sick from smelling or ingesting them. Choose products that are designed to be safe for your dog so that you won't have to add a hospital bill to your pet's future.