Did you know that your dogs need dog snow booties to protect their paws during winter? The cold can be just as rough on your dog's feet, as it is on you.
Winter walks can be downright dangerous for your pooch, as exposure to the bitter cold, slush, chilly rain, sleet, and snow can cause drying, cracking, trauma, and frostbite to your canine's feet. Your pup's paws need special care in winter, luckily there are dog booties for snow for you to protect your pup's feet. Even if you're dog belongs to these cold-weather breeds as outlined in our previous article, your dog still needs protection.
Of course, some find the concept of dog boots to be silly, but dog snow boots are functional and will provide your pet with warmth and comfort from the cold.
Why Do You Need Snow Boots for Your Pooch?
The snow and winter pose many threats to dogs. Like humans, dogs are susceptible to frostbite and hypothermia and as a responsible dog owner, it is your duty to keep your pooch out of harm's way. Snowshoes for dogs are one of the best ways for you to protect your pet from the harmful winter weather. These booties are usually designed to protect your pet from cold and to prevent snow from accumulating between the pads of your pup's paws.
Dog boots are not only used to keep your pooch warm, but they will keep your pet's feet clean and dry. These boots also serve as a good barrier between your pet's feet and sharp ice edges that can injure your dog while walking or playing.
Aside from keeping your pet dry and warm, dog booties provide stability and are also your best option when it comes to preventing irritating paw pads that are usually caused by the salt, sand, and other chemicals that are used during the de-icing process. For these reasons, snow booties for dogs should be on your pooch's winter essential list to insulate your dog's feet during the winter season.
You can read all about this topic in our previous article on winter-proofing your dog for the cold weather.
How to Choose the Right Dog Snow Booties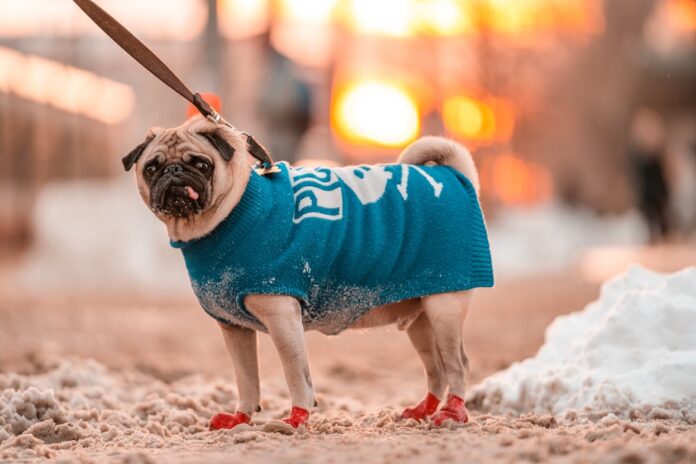 There are lots of practical yet stylish snow boots available for you to choose from for your pet. So there is no need for you to worry about not finding the perfect boots for winter. In order to find the best dog boots, you will need to determine exactly what you want to do with your dog before you buy the booties. The reason for this is there are many types available, such as those for hiking or jogging. These booties are normally a little sturdier than those that are made for regular walks.
Knowing what activities you and your pup will be doing, where you are going as well as how often you plan on allowing your pooch to wear them will help you to choose the most comfortable and durable booties.
Choose shoes that are made of thicker materials. It can get really cold during the winter season; therefore you will need to ensure that your dog's feet are as warm as possible. Make sure the shoe material is waterproof so that melted snow cannot seep into your pooch's paws, as wet paws can cause your dog to catch a chill.
Make sure you find the right shoe for your dog. Try the shoes on all four feet. Like your shoes, the snow booties you choose for your pup may fit a little differently. So it is important for you to check that the size is correct for all four feet. You should also ensure that your pup tries the four booties at the same time. This will help you to find the best fit, as dogs normally avoid putting pressure on any foot that has on the shoes.
If you are unable to take your dog to the store, you should trace your pup's feet, just like you would with your own feet with a pencil. Your dog's foot shape and function are a little different than yours so measure the distance between the two side markings and also the heel of the pad to the tip of the toe. This will determine the right size of your dog's foot and you can take this measurement with you to compare and buy the booties at the pet stores.
When buying the best snow shoes, you must take into consideration the fit and comfort that it will offer to your pet. Choose a boot that allows for a good fit. As with your own shoe fitting, you want to find a boot that fits snugly but also has enough room to accommodate your pup's foot, including his toenails.
The bootie should be soft enough to conform to the shape of your pup's foot yet sturdy enough for walking. Your dog will definitely feel uncomfortable in booties that are too tight or too loose. Therefore the bootie should also be easy to slip onto the dog's foot, but not loose enough to slip off until you want to take it off.
When you are choosing your snow booties, always opt for the ones that have good sole traction. This will provide your pet with the stability needed as well as prevent your pup from slipping into the snow or on wet pavements.
Always choose shoes that not only provide the best protection for your dog's feet, but it should also be affordable. While price is always of interest to the cost-conscious dog owner, you should not skimp when you are buying your dog's shoes. With that being said, you should not break the bank in order to pay for these shoes as well.
Choose the Right Type of Shoes
If you thought dog boots were all function and zero fashion, think again. When you are shopping for snow shoes for your pooch you will find that there are several designs from which you can choose from.
Winter dog booties are usually styled in rubber, leather or synthetic materials like nylon and are waterproof. They are also available in a variety of designs, all you have to do is choose one that satisfies your taste.
1. Rubber booties
Rubber dog booties are among the best kinds of boots that you can get for your beloved pet. These types of shoes offer superior protection and will keep your dog's feet the driest. These snow shoes are very flexible and will stay on your pet's feet, which ensures proper protection. Rubber dog booties prevent furniture and carpet stains and are perfect for pets with allergies.
One good example of a rubber dog shoe is the reusable, waterproof Pawz Water-Proof Dog Boot which offers protection from hot surfaces, ice, snow, and salt. These booties also help with traction control and allergies. Rubber dog shoes are very affordable compared to other types of shoes and usually comes in a lot of cute designs and colors. There are also ideal if your pooch is nursing a sprain or injury.
2. Leather dog shoes
Leather-style dog winter shoes are made from natural leather and will keep your pooch warm. These booties are normally lightweight and come in non-Sweating, non-chafing designs with cozy fleece lining. Leather dog shoes are designed to ensure extra comfort and proper gait, which makes them tough enough for rough or jagged terrains, sharp debris, and working animals. Some of these shoes come with adjustable, self-fastening straps to ensure that the boots stay fit and secure.
3. Nylon dog shoes
Nylon is another popular type of material that is used to make winter dog booties. These snow shoes are comfortable, and warm and will protect your canine friend from the cold and rough surfaces. Apart from providing protection for your dog's paws, nylon booties offer flexibility when your dog is walking or playing. The Army Camouflage Pet Winter Protective Boots Dog Shoes with Velcro straps and zippers are another wonderful kind of winter dog booties for your pup. These snow shoes are comfortable to wear and easy to put on or remove.
If you are planning on spending most of your time inside with your pooch, you can choose boots that are soft to wear but have rubber soles to provide traction. Since you and your dog will be inside most of the time there is no need for you to buy those big and bulky boots as you would when you are outside walking, working, or playing.
In addition, these types of boots are capable of providing enough warmth for the holiday season and can also resist abrasion. However, if you and your pet are planning to spend a lot of time outside, then you need to choose bulky winter dog boots. Apart from being comfortable and warm, the shoes should have strong rubber soles for slip-free security. The shoes should also be durable, thicker than the standard boots, and not easily damaged once worn outside. The boots should also offer professional-grade protection from snow, ice, mud, sand burrs, thorns, or cold.
Where to Purchase Your Dog's Snow Boots
If you're having trouble finding a place to purchase the booties for your pet, there is no need to worry. With the rise of the dog accessory industry, there are now quite a number of local pet stores offering all kinds of doggie accessories for your pet. There are also several online stores that sell all the latest and most stylish snow shoes.
Buying Snow Shoes at the Local Pet Stores
If you are a first-time shoe buyer, then it is best for you to purchase your pup's snow booties at your local pet store. The reason for this is you can take your dog to the store to have the shoes fitted or you can take the measurements and get the exact fit for your pet.
Also if you are not sure about what dog booties are best to handle the snow then you can discuss your needs with one of the assistants in the store, who most likely knows a lot about pet shoes. Your store assistant will know exactly what you need as well as what dog snow boots will provide the best protection for your dog.
Buying Dog Shoes Online
If you are a seasoned buyer, you can opt to purchase your dog boots online. All you have to do is use the search engines to search for keywords such as dog snow shoes or dog snow booties and you will find thousands of websites selling these items. Once you have narrowed down your search, you can compare prices and browse different products with just the click of a mouse. This takes away the hassle of moving from store to store to find the best deals possible.
Can't find what you're looking for? Then, read our tutorial on how to make your own dog boots and personalize them your way.
In Conclusion
Winter can be really tough on your dog's feet. If you are pulling out your bulky snow shoes, it's fair to say that your dog needs the same. While dog booties might look silly, they offer the ultimate protection for your pooch during the cold season by keeping your pet warm and making their walk comfortable and enjoyable.
With the range of snow boots that are available you can choose from simple booties to fleece-lined winter dog boots for added protection. Itching to make a great winter gear for your precious pet? Our DIY guide to crocheting a cool sweater for your dog is all you need to start your project.
When looking for the best snow shoes, make sure the booties are not only comfortable, but they should have enough tack to keep your pooch from sliding around slippery floors or ice. You should ensure that the straps are not too tight so your pup can enjoy a full day of activities. The snow booties should be snug enough so it doesn't slip off. It also shouldn't be too tight that it constricts the paws.
Additionally, most dogs hate wearing their boots at first, so if this is the first time for your pup wears shoes, you should take some time to help him get accustomed to wearing them. You can start by leaving the shoes on your dog for short periods of time in the house and then gradually increasing the length of time your pup wears them as time passes. You will also have to readjust the boot straps a few times until you get the right fit. When you decide to leave the house for the first time while wearing the boots, keep your pup leashed for better control and for its safety.
Read more about this topic in our in-depth guide to the top dog boots to keep Fido warm and toasty.