The Border collie is the hardest of dogs that you can ever find. Raised to herd sheep and cattle, this dog is the ultimate in fitness, agility, and stamina. On top of this, he is super intelligent, often doing what he sees to be done. The Border collie is not your usual homely, house-oriented dog.
This is a breed that loves the outdoors and excels in chasing, catching, and jumping. This is one of the reasons that the breed is an excellent choice for sporting activities. The collie is a dog that is always looking for work to do and will look to you to fulfill his exercise demands.
| | |
| --- | --- |
| Dog Breed Group: | Working Dogs |
| Height: | 1 foot, 9 inches to 2 feet tall at the shoulders |
| Weight: | Generally 30 – 40 pounds |
| Life Span: | 12 to 15 years |
With the powerful and determined stare that is distinct in a border collie, and amazing skill at maneuvering sheep to move in the direction he wants them to go, the dog is the consummate companion of the sheep farmer in managing and securing his herd. At every command of the shepherd, he knows what to do and does it well. If there is ever a dog that you would want as an arduous worker and obedient one too, you will find it in a Border collie.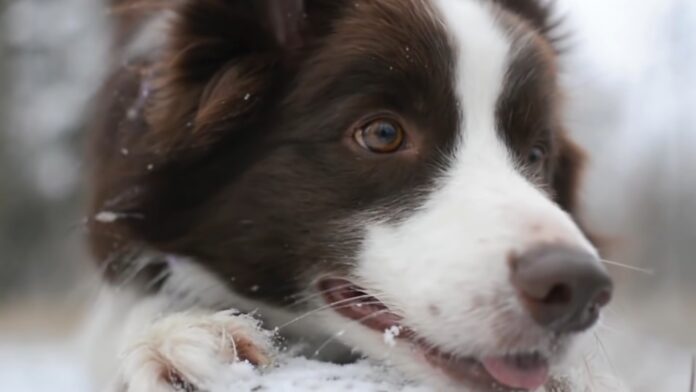 The Border collie is quite a unique dog, a stand out for its super ability to keep working. It has an energy and stamina that is unmatched in any other dog because such is the collie's makeup. This is a working dog whose trait was developed to run the hills of the Scottish border country helping sheep farmers in herding their sheep. The collie has turned out not only to be the most agile of breeds but also one with the greatest strength and endurance, covering an average of 50 miles per day.
The Border collie is not a large dog, carrying 30 – 40 pounds of body weight, a pretty normal size you would consider for a dog for the family. However, you will find that the collie is not one of those regular companion dogs that make a household pet easily.
It is not part of its nature to be a cuddly pet. You will discover his natural working dog instinct if you should bring him into your home. In fact, if you are not able to keep up in providing the amount of exercise that he requires, both you and dog will be deeply unhappy. The collie will want work to do and if he does not get it from you, he will find jobs which you may not be pleased with.
His natural instinct is to herd and he will find some task where he can prove his skills. So if not sheep, the Border collie will try to herd children, strangers, other animals, or any moving object. It is normal for this dog to shove, nip and bark at anything, something that he cannot resist because that's just the way he is.
He is best involved in sporting games and competitions where he is always on the move. Games of sport such as fly ball, Frisbees, are up his street. It is not enough therefore to play a game of fetch or to take him on a brisk walk; the collie needs much more. You will need to engage the working dog instinct in him.
Aside from this, the Border collie is a highly intelligent dog making him one of the best to train for sporting activities. You cannot hold back his competitiveness when it comes to games such as sheepdog trials, agility, flyball, flying discs, advanced obedience, freestyle obedience or tracking. He will obey your every asking and will happily do so because he loves being given tasks to do. The collie will make you a great companion if you have the same energy and interest as he does.
Conclusion
The Border collie is not the usual pet that lazes around the house. He loves the outdoors and requires space where he can be himself. This dog has the working dog instincts in him and even in a home environment will seek to demonstrate this characteristic.
If you are able to engage the dog in sporting activities and provide him with the amount of exercise that he needs, he will be a loyal companion for you. Although the collie is the most agile and long enduring dog you will ever find, he still requires the attention and care that all dogs require.