There are many dog skin problems that can affect your furry friend's life if you are not careful enough when it comes to its health. Pets can be affected by the same diseases as humans, such as bacterial infections, fungi, parasites and allergies to environmental stimuli. Diseases affecting dogs' skin can be divided into 2 categories, namely pathogenic skin diseases and pathological skin diseases.
The first group directly affects a dog's skin, for example, scabies. The second group initially affects other organs and then a quadruped's skin.
An example in this regard could be hypothyroidism. Diagnosing and treating these skin diseases require a fairly lengthy process which is not always easy.
Factors That Trigger Skin Diseases in Dogs
Every known skin problems in dogs are caused by 4 types of factors, namely bacterial infections, fungal infections, parasites and allergic reactions.
Types of Dermatitis in Dogs
The simplest definition of dermatitis categorizes this disease as an inflammation of the skin. In case of dermatitis, irritation produces itch, is red and may, or may not, be well defined on the skin. Acute dermatitis causes blisters while a less rapid type of dermatitis causes excess dead skin and a form of mange. Chronic dermatitis causes the hardening of the skin or the formation of a crust produced by excessive rubbing.
Among the many causes of dermatitis in dogs are bacteria, parasitic infections, allergies to different foods, flea bite, contact with toxic substances, predispositions of different breeds and adverse reactions to medications.
There are several different types of dermatitis defined by the factor that produces them and by the cellular mechanism responsible for irritation. The most common types of dermatitis met in dogs are allergic contact dermatitis, irritant contact dermatitis, atopic dermatitis, pyotraumatic dermatitis and flea allergy dermatitis.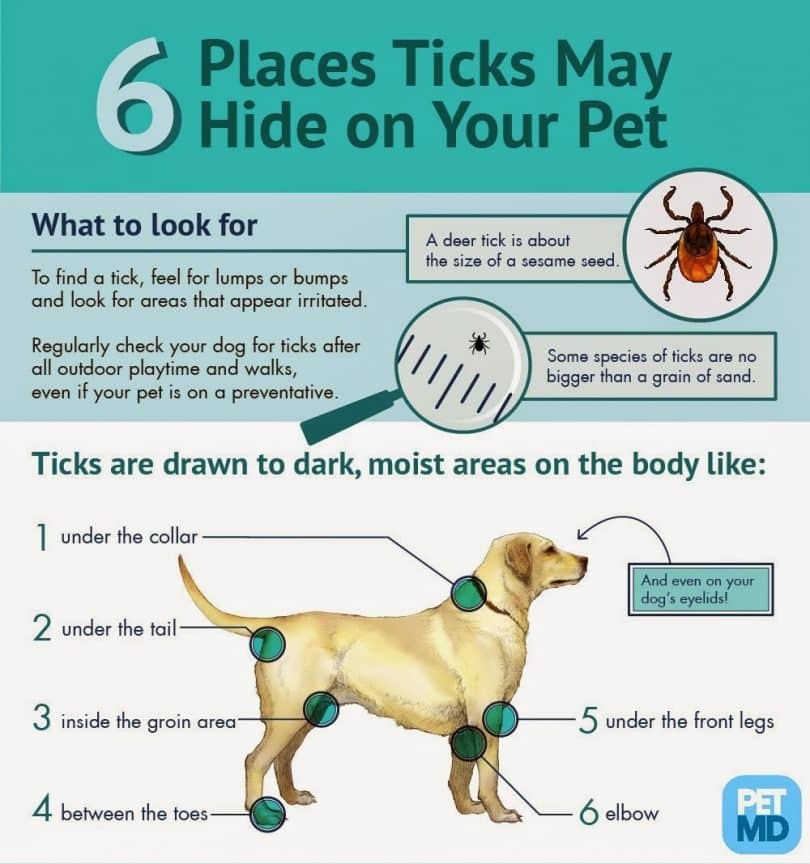 Other Skin Problems Present in Dogs
Mange or Scabies in Dogs
Mange or scabies is a parasitic disease, highly contagious, determined by the mite parasitism on a dog's skin. It can be on its skin's surface or in depth and it can produce skin lesions, scabs, pruritus (itching) and partial or total hair loss.
The mites can be transferred from a sick animal to a healthy one. The dog that carries the mites could also show no signs of affection. Other than that, a dog could get mites from grass, kennel, shelter and so on.
These mites can live up to 15 days in favorable conditions, at temperatures below 10 degrees Celsius and high humidity. Often, puppies take mange from their mother. Nursing females are prone to scabies because their bodies are weakened and their immune systems are not as strong as they were before pregnancy.
Dogs that have high risks of becoming infected are those that receive insufficient food or bad quality food.
In addition, they might be kept in crowded shelters where the humidity is high. Also, dogs receiving prolonged treatment with corticosteroids are prone to getting infected.
Symptoms of mange appear after an incubation period of 14-21 days and are:
Pruritus, which means excessive itching. Dogs scratch so much until they hurt themselves
Crusts, which initially appear on a dog's head, nose, around its eyes, on its chest and abdomen, followed by its entire body
Areas without hair appear more and more often
Dogs stop eating, lose weight very quickly and the may eventually die
Sarcoptic mange is a form of mange that can be transmitted to humans too. It would be enough for a person to touch an infected dog, cow or goat in order to get it. In addition, it is transmissible between dogs and other animals. Contact is not necessary if the animals sit or share the same shelter, bed or mattress and go there in different moments of the day without meeting.
The treatment for mange consists of bathing, and applying different special substances locally, by injection, or orally. It can also be completed with antibiotics in order to prevent lesions from getting infected. As an adjuvant treatment, there are stimulants for a dog's immune system, Omega acids, 3, 6, and 9, vitamins A, D3 and E.
When it comes to the duration of the treatment, this varies from dog to dog, depending on the degree of the infestation, the immune status of the dog, and the accuracy of treatment administered by the owner. The duration of this treatment may last from several weeks to several months.
The Importance of Dog Skin Affections
Whether it is scabies or other dog skin affection, dog owners often make mistakes because they do not understand how serious these diseases are and how much they can affect a dog's general health condition.
Dog owners tend to wait for too long before taking their dogs to the vet. Dogs are often already weakened by injuries. Not to mention that dog owners apply different treatments without knowing what they are doing, listening to neighbors, and so on.
A vet can simply explain all about the disease that affects one's dog, about how to treat it and what to expect in terms of treatment, which can last for a long period of time. The treatment should not be stopped immediately after a dog shows signs of improvement regardless of which skin affection it suffers from.
Its treatment should be continued until the veterinarian decides it is totally healed. Relapses have a good chance to reoccur if the hygiene and nutrition conditions are not met, so there is a lot of responsibility on a dog owner's shoulders.
Conclusions for Affected Skin in Dogs
Dog's skin is prone to injury more than any other part of its body. Whether a dog faces dry skin or oily skin problems, or its skin is stripped of irritations and eczema caused by allergy or dermatitis, there is a natural remedy that can be safely used.
Vitamin E is known to do wonders for tissue repair. It can be added in the water used for bathing the dog and then gently massaged into its skin in order to penetrate deeper layers of its epidermis. Also, if the dog's skin is severely affected, vitamin E tablets can be administered orally or other supplements with vitamin E.
Remember not to wait too long before taking your dog to the vet as soon as you see that something is wrong with its skin. A lesion will probably not heal if you do nothing about it, especially when it comes to hot spots.
Therefore, shorten the waiting time and immediately care for your dog's skin diseases. Keep it away from allergens if those are the ones causing it trouble or make sure to feed it correctly in order to build up a stronger immune system that can protect it from any disease, not just a skin disease.