The best dog tags are those that can offer durability and excellent utility for its owners. This means that the tag should be able to withstand a lot of wear and tear as well as maintain the readability of its content even after a long time of use.
This is due to the fact that the real purpose of a dog tag is to give your pet an identity and to stay with your dog no matter where he goes. You can add in a lot of aesthetic features but these too should be able to provide the said purposes.
Dog tags are not for decorative purposes only; they serve an important purpose of identifying your dog especially if they tend to wander off from your home. Some people forget the fact that even though your pet can be very loyal to you, there can be situations in which they can become disoriented and may end up going somewhere else.
It would be better if you can prepare yourself and your dog for this event. By getting him or her good dog tag, you are helping them find their way back into your arms.
Characteristics of a Good Dog Tag
In finding the best tag for your dog, there are several things that you should be after.
First, it should be made of high quality materials.
Secondly, it must have clear engraving or printing that can withstand wear and tear.
Third, it should fit your dog properly meaning it should not get caught on things or hang so low that it can get on their water or food. Lastly, it should come at the right price.
This can be hard to find on the market especially since businesses are becoming more focused on profits but with a diligent search you will definitely find one that is right for you.
Now that you know what to look for, you can then easily find the right tag for your pet. There are plenty of options in the market and the best one is that which will suit your needs as well as your pet's size. You will find a lot of brands in the market and the best step is to browse all available options first before deciding on which one to buy.
You can read reviews about the products and you can also look at product standings or ratings on various online shops. This way, you can better judge the real quality of the product and not just base your assumptions on the manufacturer's guaranty.
Top Picks Best Dog Tags
To help you select the best one that can work with you, here are some of the top products in the market today. Most of these dog tags have one or more of the said characteristics above which makes them an ideal tag for your pet.
The prices differ however, so you may have to decide on this based on what you can afford. But either way, you will be making a great investment for your pet that can help you save your dog if ever they get lost.
You can also make use of high-tech dog tags equipped with GPS technology to ensure that you will find them no matter what happens.
1. Luckypet Rivet-on Dog Tags
One of the things that you will love about this product is that it is made from high quality materials. You can choose from stainless steel or polished brass which are definitely durable and can last a long time.
The metal material ensures that you can get engraved letters on the tag which means that the information that you put in it will be preserved longer as well.
The company offers four lines of engraving so you can enter a lot of information in it and they also use laser engraving method which means long-lasting results.
The tag has just the right width which is 9/16th of an inch so it does not feel uncomfortable on your dog's collar and they are also just the right length to fit collars from 5/8 of an inch up to 1 inch wide.
The company provides the rivets that you will need which are also made of high quality materials so you don't have to worry about how you are going to attach it to a collar. Make sure though that the collar is not more than 1/8 of an inch thick or it would not fit. Although you will be the one to put the rivets in, it is really an easy affair.
All that you will need is a hammer and a padded surface to protect the tag. As to its price, it is reasonable at $10.95 given the kind of product that you are going to receive. The design also makes it impossible for your dog to get snagged by branches or shrubs if they are wandering around the yard.
2. Pet ID Tags by Providence Engraving
This is your next best option if you are looking for sturdy materials yet more affordable price. The tags are made of anodized aluminum which is a very strong metal that can withstand different types of weather and has a strong reinforced structure. This metal can withstand a lot of corrosion and is also tough enough that your dog would not be able to chew on it even if he is a large dog.
What is good about this set of tags is that it is highly affordable at just $3.10 which is the current offer of Amazon today. You can also choose from eight different designs (bone, heart, hydrant, round, star, cat face, and paw) and two different sizes: 1 inch to 1.5 inch. So if you have a larger dog, you can easily get the size that you need.
Since it is anodized, you can find it in a variety of colors: pink, orange, blue, silver, purple, black, gold, and green. This means you can customize and personalize the tag to your own liking.
The colors also stand out easily which makes it easier for anyone who finds your pet to get your contact information. Although the company does not engrave, they do provide laser printing which is durable as well. Some customers however complained about how easily the printing had become erased but these only happened in very active dogs.
So perhaps, normal or average use will not lead to the same results. The rounded edges make sure that it doesn't poke your dog and it also allows for up to four lines of information to be entered both at the front and at the back of the tag. Considering its price and the utility that it provides, I can say that this is a very good option.
3. Slide-On Pet ID Tags by Gotags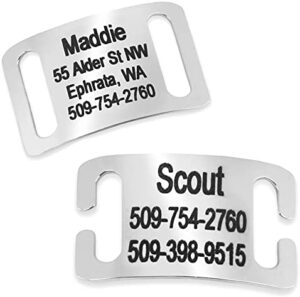 This dog tag comes with stainless steel material which is one of the toughest materials that you can find for this accessory. It can withstand a lot of wear and tear and different types of weather as well. You don't have to worry about rusting or of getting the tag deformed since it has a well-built structure.
What is also good about this design is that it easily slides on to your dog collar and does not require any other tool for installation. You cannot use it on collars with plastic buckles though as the company clearly states that it is for single thickness, metal-buckle collars only.
The company allows up to four lines of engraving on the front with up to 18 characters for each line. What is nice about this is that the first one comes with huge letters. So if you want to put your pet's name on it, it easily stands out on the tag.
Another thing is that it comes in three different sizes that can fit small to large dogs. You can choose from .06 inches wide to a full inch wide which can definitely suit standard sizes of dogs.
The engraving is made with laser and highlighted with a black color so the info is really easy to read. It costs $8.45 on Amazon so it is pretty much on the mid-range in terms of pricing.
There are problems that you may encounter with it though. First, it has a flat design which can make it quite difficult for your dog to wear since it does not conform to the more rounded shape of the neck.
Next, the edges are quite sharp so it can poke your dog on the neck. Lastly, it only works on dog collars with metal buckles which mean you may have to buy a new collar just for this dog tag to fit.
But considering the other benefits that you can get from it, including the fact that it wouldn't snag on bushes or cause a lot of noise, this is still a good option for your pet.
4. Swarovski Crystal Pet ID Tags Bone Shape by Providence Engraving
This is your dog tag if you are into stylish and glitzy tags. This product comes with 26 real Swarovski crystals that will make your dog look more fashionable. The tags are made of aluminum which is a good material since it does not rust although it is not as strong as steel.
The crystals are attached to the tag by grooves and are glued with industrial grade epoxy so you don't have to worry about losing them unless your pet gets the chance to chew on them. You can also put up to four lines of information containing up to 16 characters each.
This tag measures 1 inch thick and 1.5 inch long so it is pretty large dog tag. It comes with a hole for you to easily attach it to a ring or a clip for the collar.
As for the quality of engraving, the company uses laser engraving so you are assured of high quality and long lasting engraving. You can also choose from five different colors: black, blue, pink, red, and purple.
Information is also placed both on the front and at the back of the tag which allows you to put as much info as you want. As of writing, the tag only costs $7.95 with free shipping so it really is a good buy if you want to put some "bling" on your dog.
5. Tagg Pet GPS Plus
This is a good option if you want a dog tag that tells you exactly where your dog is. It uses GPS technology to locate your dog anywhere in the US so it only means that you can't use it if you live outside of the US.
The device is pretty lightweight so it does not really weigh your pet down and it has a plastic material that is water-proof and weather proof. Due to the accuracy of the device in pinpointing location, this is highly recommended for pet owners whose pets tend to wander off or if they are usually active in outdoor activities.
Attaching the device to your dog collar is really easy since it has a receptacle where you can insert the collar and which also attaches to the device. It is quite bulky though measuring 1 x 3.5 inches so it may well suit larger dogs.
But it does provide a lot of uses for a pet owner. First, it tells you exactly where your pet is. Second, it monitors his physical activities so you will know whether he or she is getting sufficient exercise. Third, it sends text and email alerts if your pet ever wanders off.
Lastly, it sends information regarding the ambient temperatures that your pet is in so you would know if they are suffering from extreme cold or heat.
One of the downsides of this device however, is that it really costs a lot of money. It currently sells at almost $80 dollars so you may have to think twice before investing in this type of dog tag.
It also has a monthly subscription for the GPS service and as stated above, it is quite bigger than an average dog tag. But aside from these, the device offers long battery life, water and dog-proof, as well as a sophisticated technology that allows you to find your dog.
If you have the resources to pay for this kind of device then you should definitely do so especially if you have a highly valued pet. Remember though that it does not contain actual written information so anyone who finds your dog may not be able to return them to you.
Final Thoughts
Dog tags are a valuable investment for any dog owner. They do not only serve decorative purposes but they also provide practical purposes as well. They can help your dog for identification purposes as well as for providing your own information. This way, anyone who finds them can easily know where to return your pet in case they get lost.
Another advantage of a dog tag is that it helps distinguish them from stray dogs which are often ignored and neglected if they are lost.
Knowing that a dog has an owner can easily change the way other people may view your pet.
They would instantly know that the dog that they found is a cherished member of a family and that they have owners that are looking for them. This way, your dog can be returned to you and be reunited with them much faster if they ever get lost or wander away from home.
Whether you are on a budget or not, you can find a dog tag that will suit your needs, is elegant, and made of high quality materials that will last long.
Check this article on how to make dog tags yourself at home, if you're on a budget!
Take a look at more products like that: