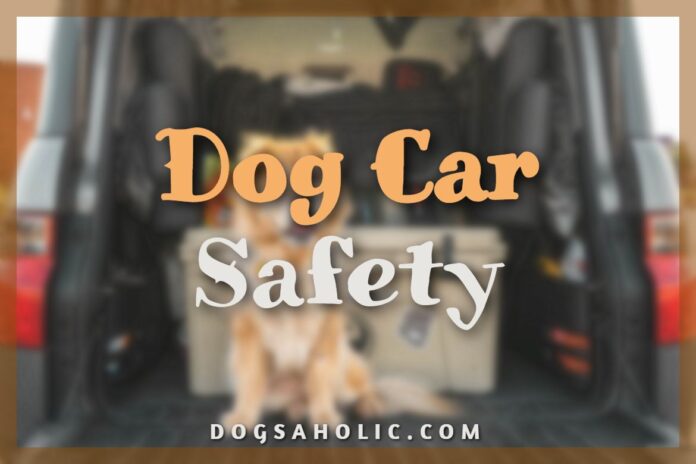 Our pets accompany us wherever we go. Whether you are going to a local park, or taking a 10 hours ride to a lake far away, our dogs follow us and experience both bad and good sides of travelling.
We've all imagined a movie-like scene when there's a happy ending: you enter the car, your loyal dog and the best friend is on the seat next to you, an awesome song playing on the radio, you step on the gas and drive away while your dog enjoys the ride with his head out to the window. I must admit, that picture does sound amazing, but it puts both you and your dog in danger.
Dog car safety is something you must pay attention to, and this article should help you with that. I presume you have many question concerning the law, preparations, protective accessories and many other topics. The answers can be found here, just keep reading for the next few minutes.
What Does the Law Say?
According to the U.S. federal law, there are no specific restrictions when it comes to harnessing your dog in a car, but there are some specific state laws. If you're taking a ride in Hawaii, don't let a dog in your lap, no matter how small it is, or you may be fined. California and Massachusetts forbid people to put their dog unsecured in an open pick-up truck. New Jersey has a law that does not allow improper transport of animals.
All over U.S.is illegal to transport your dog in a boot of a sedan type car, and to leave your dog in a car unattended, even with a window cracked, as it may cause a heat shock which can be fatal for any dog.
Canada has no laws forbidding a dog to roam free in your car; the only thing you can be fined for is leaving your dog unsecured in a back of a pick-up truck.
Europe has gone one step further and created laws that are stricter regarding this matter. Some European countries prohibit drivers to travel with a loose dog inside their car, and the UK «Highway Code» states that dogs and/or other animals must be restrained so they cannot distract the driver or cause an injury to a driver or themselves in case of an emergency stop.
What Can Go Wrong?
Just like it's supposed to be done with an infant, the same applies for your dog. Prevention is the key to save both your canine's and your life as a dog cannot control itself if a crash occurs and it becomes a projectile that may bounce around the car, hit (and hurt) you or go through a windshield. In any scenario, your dog will get hurt if unprotected, and you may suffer the consequences as well.
A loose dog may jump in your lap, bark, try to lick you or do whatever else he usually does which could create a distraction, and once that happens you may be moments away from a car accident.
These are just some of many possible scenarios that could happen if you do not secure your canine. Caring for its well-being is your responsibility, and that includes learning about dog safety in cars and applying what you've learned.
What to Do?
Prepare for the trip. Supplies necessary for a short trip or a long voyage should be packed in your car on an easy-to-reach place. Here is the list of things you should not forget to bring:
Water — This is a must. You should never leave your dog short of fresh water.
Medication — In case there are any vitamins, pills or any other drugs your dog is taking, don't forget to bring them with you. This is especially important if your dog is prone to car sickness; to better prepare for this kind of a situation, check out this article on car sickness in dogs.
Leash — You will make breaks. Taking your dog for a walk to do its business or to go sniffing around means a lot, and letting it roam free near a road is never safe, no matter how trained and well behaved your dog is.
Treats — Always reward your dog for good behavior.
Food — Even when travelling, do not let your dog skip its meals. Make a longer break and feed it according to your regular schedule.
Plastic bags — A necessity for cleaning up after your pet.
Chewing toys — Consider bringing at least one for keeping your dog busy and animated during a ride.
Papers — Always carry all the papers about your dog. Passport and documentation of shots may come in handy in some situations.
Dog tag — Whenever you go out with your dog, and especially when on a road trip, put a dog tag on your dog's collar. It should provide necessary information about the owner, contact number or the address.
Seat cover — Dogs do leave their hair everywhere, it is a natural process, but we can prevent that hair getting on our seats. It takes much longer to clean it off than to install a simple seat cover in your car.
Not sure what else you need to plan? Check out this great article on safety tips when traveling with your dog.
How to Provide Safety?
There are certain products made for dog owners that provide a safer ride for all passengers, and these accessories should be included in your car equipment.
We present to you 4 types of accessories and their benefits:
Dog crate — As dogs are naturally den animals, a crate is not something they will consider a prison. This is a perfect choice if your dog is already used to being in a kennel. Crates are considered to be the safest way to transport your pet, a sturdy, high quality crate that is secured to a back seat of your car will lessen the chance of your dog being injured in an accident.
Dog safety belt — A car harness is something like a leash attached to your car's seat belt, only made stronger to withstand an impact. A well made dog harness does its job pretty well, which was proven on numerous crash tests. Try keeping it as short as possible. Even though your dog will lack in manoeuvre space, a shorter harness will prevent your dog being thrown too far in case of an impact.
NOTE: Never use a neck collar with a car harness (you don't want your dog hanged)!
Dog seat — An advanced version of a car harness made for small dogs or puppies. Dog seat will keep your pet secured to your back seat while putting it on a higher position so he can look around. They usually come with their own harness you can attach to your dog's breast am. Make sure they are firmly bond to your backseat. To help you make an easy choice, check out this great article on finding the best dog car seat.
Back seat barrier – A huge number of pet barriers of various types are available in every pet shop. They are designed to keep your dog on a back seat or in a trunk. They are not the safest option out there as a dog is still free and may be injured in case of an accident, but still, it is better than having no measure to secure your dog and yourself.
Suggested Products
There are almost an infinite number of choices for securing our dogs in a car. We've tried narrowing your choice and made a list of suggested items from all 4 types of car protection accessories.
Hope you will find the right product for you!
Suggested Dog Crates:
Petego Pet Tube Kennel is a large sized tube that can be adjusted larger or smaller according to your needs. It is made of durable claw proof plastic and can be secured to standard car seat belts. This item's cost is 199$.
Suncast Deluxe Pet Carrier is an extremely durable and easy to clean crate. It has an interesting design and besides car travel, it can also be used for air travel. A huge plus is having food and water bowl in it so you don't have to purchase that item too. The current price is 57$.
The third suggestion, Port-A-Dog box is my absolute favorite. It is made of diamond tread aluminium which makes it extremely durable. It can fit two dogs and their food and water bowls without a problem. The benefits of purchasing this piece include having a crate with lockable doors made of durable 0.8'' aluminium, and with a door hinge on the bottom which eliminates the risk of pinching. According to the seller, it can be assembled in minutes. Its price of 259$ fits the quality.
The last suggestion among dog crates is TRIXIE Pet Products Scratch-Resistant Metallic Crate. This one is exceptionally sturdy, secure and quiet dog crate and it is ideal for home, auto and airline travel as well as commercial uses. Wood panels with scratch and smudge resistant melamine coating and aluminium frame with tight fitting and hard plastic joints, puts this crate among the best in its category. For 150$, you get a crate that is suitable for large breed dogs weighing up to 70-pound such as a Siberian Husky.
Suggested Safety Belts:
FACILLA car seatbelt for dogs is the cheapest product on our list, yet, it proved to be of great use. It allows you to keep your pet safely restrained and secure in vehicle while driving and it can be attached to seat belts of all vehicles. It is made of nylon and the length is adjustable. Is there anything more to ask for 4.85$?
Solvit's pet vehicle safety harness is made from special strength-rated material with a breathable mesh safety vest and can fit pets weighting from 45 to 85 pounds(it comes in four sizes). Attaches with heavy-duty straps and full metal connectors with an ease. 1 year warranty and affordable price of 25$ helped this harness get on this list.
An absolute champion among seat belts is Bergan Dog Auto Harness with Tether. It is certificated for meeting an official durability test (V9TD). The minimum durability thresholds are designed to ensure confidence that a harness will withstand forces generated from sudden stops while minimizing distractions from your dog. The harness is durable but lightweight and comfortable and fully adjustable for a dog between 50 and 80 pounds. Check out this 27$ diamond.
My personal favorite, the American Kennel Club 2-in-1 seatbelt harness with adjustable straps for comfort fit, lined chest piece for added comfort and support in the event of a short stop and durable nylon webbed straps for added strength and security; compatible with all cars. The best part is that it quickly converts from seat belt harness to walking harness, thus the name 2-in-1. The price is only 2.99$.
Suggested Dog Seats:
Kurgo Skybox Dog Booster seat is made for dogs up to 30 pounds and can be used on both front and back seats. It is comfortable and machine washable, easily attached to your car's seat belts. You can get this piece for 39$.
Snoozer dog safety seat is my second choice. Designed for very small pets (up to 12 pounds), it is made of durable polyurethane foam and also machine washable. If you have a small dog or a puppy, this high quality seat is currently on sale for 99$.
We usually get what we pay for. Therefore, my favorite among dog seats is another one made by Snoozer. Designed for dogs up to 25 pounds, it has zipper removable micro suede cover that is machine washable. The best thing about this seat is that it comes with connection strap included for the seat belt to join the harness and the material is comfortable and durable polyurethane foam. The price is 172$.
Another interesting choice the Snoozer Lookout car seat has comfortable foam forms with simulated lamb's wool interior. It is safe for pets up to 25 pounds. It comes with connection strap included for the seat belt to join the harness and has Sherpa lining for warmth in winter and cool in summer and quilted nylon cover that repels hair. How much more can you ask? It is available for 85$.
Suggested Dog Barriers:
The first one is simple, cheap and effective; the Backseat pet barrier is easily installed and has 2 handy pockets to put in them whatever you need for your canine. Get it for 8.35$.
Highland black universal pet barrier is made for keeping a dog in the cargo area, easy to install and durable, it's price is 32$.
The Walky Guard adjustable car barrier is the winner in this category. Extremely durable and built with high quality powdered coated steel, it secures your dog on the rear seats. This barrier is also easy to install and remove and everything comes at the price of 80$.
The Pet Net barrier (what a lovely name) is my last addition for this category. Simple, easy to install, remove and pack barrier for the rear seats of your car. The price is 40$.
What Else?
There are few more tips to help you keep your dear pet safe. For example, power windows. If your car has power windows system, it is highly advised to disable them as your dog can easily push the button and open the window. An opened window will attract your dog to pull its head out which can lead to eye, mouth, nose or face injuries.
Also, your dog may fall out of your car which can be fatal at high speed.
Another thing that can help is something you should practice more often: frequent stops. You need to stop from time to time to let your dog do its business (you don't want that in your car), run around, sniff a bunch of random objects and stretch its legs.
If you are thinking about buying a new car, you should consider getting a pet friendly model (Volvo and Seat have those) that comes with all necessary equipment for a road trip with man's best friend.
To conclude, traveling is great, taking your dog with you is even better, and feeling secure on the road will reveal the true joy of road trip. After all, the ultimate, best protection for you, your dog and other people in traffic is safe driving. Be a cautious and responsible driver, follow our tips, get on the road and rejoice in your vacation.
Hit the road, take care and enjoy!